ACTIVE AUTUMN
MONO TRAMPOLINE
The Mono Trampoline is designed for children to have fun, bouncing and jumping while creating vestibular simulation. Trampoline exercise helps firm and tone muscles, increase leg strength, helps the body learn to control different muscles and limbs simultaneously, and improve sense of balance. It has a positive impact on bilateral motors skills, maintaining the body's position, and anticipating the next action. This Mono Trampoline features a sloped protective cushion with high-rear edge (approximately 5-inches) for protection during play activities. Features a welded steel frame construction with reinforced spring sheet suspended in steel springs. Handle height is 25.6 inches and 17.5 inches wide. Features 17.5 inch jumping diameter and 100-pound weight capacity.
ENABLEMART 865 Muirfield Drive Hanover Park, IL 60133 Phone: 888-640-1999 Fax: 800-235-1305 Web: enablemart.com Email: sales@enablemart.com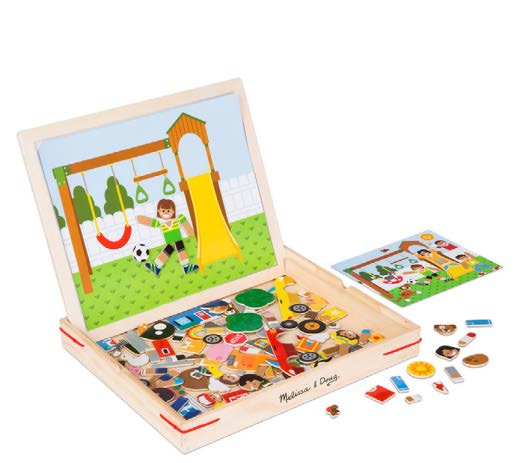 WOODEN MAGNETIC MATCHING PICTURE GAME
The Wooden Magnetic Matching Picture Game is an educational activity that combines more than 100 wooden magnets to recreate and bring to life imaginative scenes. Users can fit a large background scene on the magnetic game board, choose one of the small suggestion cards with the same background, then find and place the magnets that match the suggested picture. The set includes 119 wooden magnets, 2 double-sided background cards, 4 double-sided suggestion cards, and a magnetic game board that stands up in a sturdy wooden storage case with handle. Suitable for children three and older. This activity will hone fine motor, matching, color recognition, and problem-solving skills.
MELISSA & DOUG PO Box 590 Westport, CT 06881 Phone: 800-718-5365 Web: melissaanddoug.com Email: Owners@MelissaAndDoug.com
GEL PAD ACTIVITY CENTER
The Gel Pad Activity Center features three different gel pad switches. Users can press the green switch to make a fan blow and music play; the red switch to make a police light flash, sirens wail and policemen talk; and the yellow switch to vibrate while colorful glitter whirls around a dome and music plays. This activity center provides auditory, tactile and visual stimulation. Size: 23½ inches x 14 inches x 6 inches. Weight: 4½ pounds. Requires 6 C / 9 AA batteries.
ENABLING DEVICES 50 Broadway Hawthorne, NY 10532 Phone: 800-832-8697 Fax: 914-747-3480 Web: enablingdevices.com
The ABLEDATA database of assistive technology (AT) and rehabilitation equipment contains information on more than 50,000 products for persons of all ages who have a physical, cognitive or sensory disability. Products are chosen for these pages by the ABLEDATA staff based on their specific applicability to or design for children who have disabilities. ABLEDATA, operated by New Editions Consulting, Inc., is funded by the National Institute on Disability, Independent Living, and Rehabilitation Research (NIDILRR). For more information on these and other assistive devices, or to submit product information for the database (and possible inclusion on this page), contact: ABLEDATA, 103 W. Broad Street, Suite 400, Falls Church, VA 22046; phone: 1-800-227-0216; TTY: 703-992-8313; website: abledata.acl.gov; email: abledata@neweditions.net; Twitter: twitter.com/AT_Info; Facebook: facebook.com/abledata; Pinterest: pinterest.com/AT_Info
ABILITATIONS SNUGGLE WRAP
Snuggle Wrap allows individuals to feel embraced in a sense of warm comfort. With its stretchy material and open ends on both sides, a child simply needs to nestle inside its middle to feel a sense of resistance, balance, deep pressure input, and an ability to move the body more slowly and effectively. Wrap-around blanket can also aid with coordination (while increasing confidence and decreasing falls). The Snuggle Wrap is also a calm-relieving favorite for children with autism, ADHD, and more. Wrap measures 60 inches long by 30 inches wide. Designed for ages 4 and up.
ABILITATIONS/SPORTIME INTERNATIONAL PO Box 922668 Norcross, GA 30010 Phone: 800-850-8602 Fax: 800-845-1535 or 770-263-0897 Web: abilitations.com Email: customer.service@sportime.com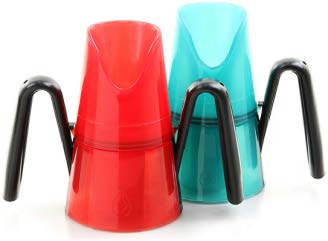 RIJE DYSPHAGIA DRINKING CUP
The RiJe Dysphagia Cup helps with safer swallowing by providing limited boluses of thin or nectar thickened liquids. The cup provides those with difficulties swallowing with adjustable satisfying sip amount, helps to reducing the risk of liquid aspiration and assists with learning the task of selfdrinking. The cup automatically dispenses a limited portion of liquid each time it stands in its upright position. Once the portion is withdrawn and the cup is placed upright, it delivers another portion within two to three seconds. The built-in regulator allows the user to adjust portion size between 3 milliliters to 15 milliliters before the cup is filled with liquid so they can enjoy the perfect sip from the cup rim or through a straw every time. The RiJe Dysphagia Cup also features a large nose cut that allows the user to keep their chin down, and large ergonomic handles that provide better gripping. The cup features BPA-free polypropylene construction and O-rings made of food grade silicon. The cup works with thin and nectar thickened liquids (IDDSI Levels: Thin, Slightly Thick, Mildly Thick fluids). The cup does not work with Honey Thick and carbonated liquids. The RiJe Cup is also completely dishwasher safe. Weighs 230 grams/0.5 pounds. Measures 7 inches/178 milliliter high, 4.25 inch/108 milliliter diameter. Handle grips measure 4 inches/102 milliliter long, 1.5 inch/38 milliliter width.
ESPECIAL NEEDS 1850 Borman Court St. Louis, MO 63146 Phone: 877-664-4565 Fax: 800-664-4534 Web: especialneeds.com