NPA PRESENTS AWARDS FOR PATIENT CARE AND COMMUNITY SERVICE
The Nurse Practitioner Association New York State (The NPA), the only statewide professional association of nurse practitioners, has named Janice Ceccucci, DNP, FNP-BC, Nurse Practitioner of the Year, and Daniel Babcock, MS, FNP-C, NP Student of the Year.
Janice Ceccucci began her career working with sexual assault victims in the Emergency Department. Recognizing that there were gaps in services, particularly for child sex abuse victims, she decided to pursue forensic nursing. She is committed to ensuring services for child sex abuse and physical abuse patients are widely available. Ceccucci has presented extensively, including at the Sigma Theta Tau International Research Congress in 2018 in Melbourne, Australia, and she has received the Joan Unger Memorial Award given by the New York State Coalition Against Sexual Assault for demonstrating excellence and innovation in services offered to the community in sexual assault. Ceccucci is an assistant professor at SUNY Polytechnic Institute.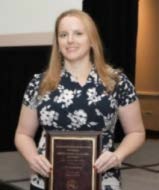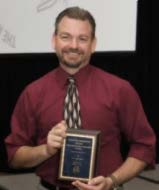 Dan Babcock is an Air Force veteran and a former professional fire officer and paramedic who is currently a full-time Graduate Family Nurse Practitioner Student in the Decker School of Nursing at Binghamton University. He holds a BS in Nursing from Empire State College and, as a Registered Nurse, has worked in the emergency department and diagnostic imaging. After retiring as a lieutenant from the City of Binghamton's Fire Department with 20 years of service, he decided to become a nurse practitioner. Babcock grew up in rural Delaware County, New York, and has a particular interest in improving the health of the poor, rural and vulnerable populations that influenced his early life. •
PARALYZED VETERANS OF AMERICA ENCOURAGED BY TSA REPORT ON SCREENING
As the driving force behind the Transportation Security Administration's report, "TSA's Improvements for Screening of Passengers with Disabilities," Paralyzed Veterans of America is hopeful that its findings that show updates to TSA's etiquette and sensitivity training and the incorporation of best practices to address complaints from travelers with disabilities will lead to better experiences with the security screening process.
"TSA revised its initial and recurrent training requirements for those who perform screening functions at airports as a result of Paralyzed Veterans of America and other focus groups' participation earlier this year. The report also reveals that the focus groups showed a benefit to updating TSA's Passenger Support Specialist training," said Carl Blake, PVA's executive director. "We are pleased TSA used the input of Paralyzed Veterans of America and additional focus groups in order to improve the engagement that travelers with disabilities deserve."
Additional findings from TSA's report show airline travelers filed 1,816 disability complaints from October 1, 2018 through May 31, 2019. Of those complaints, 16.2 percent were from travelers who encountered problems while using wheelchairs or scooters.
"It's extremely disappointing to see individuals experience discrimination or lack of accommodations simply because they use a wheelchair or scooter," said Blake. "We hope that TSA's incorporation of best practices into training will prevent these problems in the future."
Paralyzed Veterans of America is the only congressionally chartered veterans service organization dedicated to working for representation of veterans with spinal cord injury or disease. For more than 70 years, the organization has ensured that veterans receive the benefits earned through service to our nation; monitored their care in VA spinal cord injury units; and funded research and education in the search for a cure and improved care for individuals with paralysis. PVA has been a champion for the civil rights of air travel ers with disabilities. Learn more about PVA's advocacy efforts on this issue at pva.org/travel.
Paralyzed Veterans of America also develops training and career services, works to ensure accessibility in public buildings and spaces and provides health and rehabilitation opportunities through sports and recreation. With more than 70 offices and 33 chapters, Paralyzed Veterans of America serves veterans, their families and their caregivers in all 50 states, the District of Columbia and Puerto Rico. Learn more at pva.org
A GLOBAL CALL TO ACTION FOR SELF-CARE DURING NATIONAL FAMILY CAREGIVERS MONTH
When a person is sick or unable to care for themselves, their family members often do whatever it takes to provide their loved one with all the support and care they need. Yet, research is showing that selfless unpaid family care adds up to a very high cost for caregivers – not just physically, mentally, and financially, but also in terms of the one resource we can never make more of: time.
To deliver the important gift of time to caregivers worldwide during National Family Caregivers Month this November, the Embracing CarersTM initiative from EMD Serono continues Time Counts, a global initiative with the goal to inspire people from all around the world to pledge a total of one million minutes of their time to help the caregivers in their lives. Time Counts was launched by caregiver and actor Sean Hayes.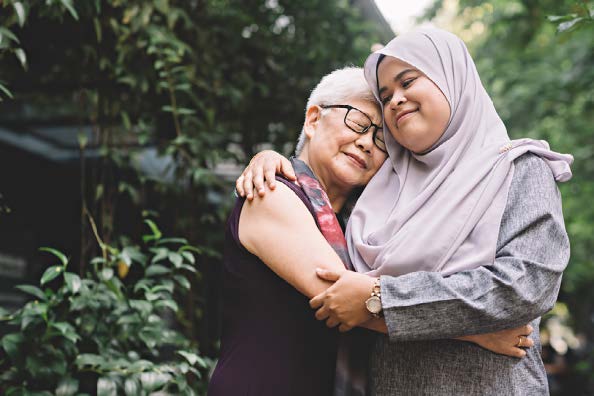 CARE FOR THE CAREGIVER: Caregivers are often so focused on the responsibility of caring for others that they have little time or thought for themselves. Embracing Carers aims to fill the need for better support and recognition of caregivers.
One study estimates that 43.5 million adults in the United States provide unpaid care to an adult or a child each year. While the average caregiver spends about 24 hours each week providing unpaid care for a loved one, many care-givers invest far more of their time than that: 23% of caregivers spend over 40 hours – the equivalent of a full-time job – on their unpaid family caregiving responsibilities each week. Unfortunately, caregivers also rarely feel comfortable asking others for help due to a fear of appearing overwhelmed, which means they tend to suffer in silence. 
"There's only so much time in the day, so if a caregiver feels stretched to the limit, they may neglect their own personal health in order to put the needs of their loved one first," says Scott Williams, VP, Head of Global Patient Advocacy and Strategic Partnerships at EMD Serono. For the past 15 years, Williams has also served as a long-distance caregiver for his mother, who suffers from multiple chron ic conditions. "Our research from Embracing Carers finds that this time crunch frequently leads to caregivers experiencing their own mental and physical health problem."
Embracing Carers partners with caregivers who offer their voices and personal experiences to help fellow caregivers discuss their personal stories, advice for millions who are struggling silently. They include: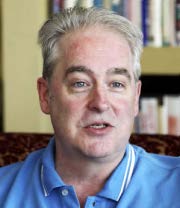 VOICES OF CARE: Caregivers offer advice for millions who are struggling silently, neglecting their own personal health and putting the needs of their loved one first.
● Jon Strum, who has cared for his wife Jeanne in Los Angeles for over 20 years after she was diagnosed with secondary progressive MS in 1997. Within five years, her progressive MS left her quadriplegic, and Jon quit his job to care for her full-time.
Denise Brown of Park Ridge, IL, who was a caregiving expert long before she became a caregiver herself. In 1996, she founded caregiving.com to help those who care for a family member or friend. But when her parents began to require their own assisted care due to complications from bladder cancer and internal bleeding, Denise found herself reliving the same lessons that she had spent years helping others learn: to truly be helpful to someone else, you must also take care of yourself.
Adrienne Glusman, one of 10 million Millennials across the U.S. who serves as unpaid family caregivers for a loved one. In 2010, Adrienne's mother was diagnosed with Multiple System Atrophy (MSA), a neurodegenerative disease similar to Parkinson's, and it became clear that she would need regular care from someone she trusted. "In other words: me," says Adrienne, who quit her career in NYC and moved back to Miami, FL, so she could be closer to her mother.
Pat Egan, who has cared for his mother in Boulder, CO, since she was diagnosed with Parkinson's while Pat's stepfather battles heart disease and COPD. As an outspoken and proactive advocate for the needs of caregivers, Pat has developed many time hacks he shares with his fellow caregivers to help them stay organized while optimizing the scheduling of medical appointments, medication pickups, in-house visits, physical therapy, and finding the much needed personal time that serves as a respite from the stress of caregiving.
With tens of millions of people serving as unpaid family caregivers in the United States, the challenges of care-giving are an increasingly important part of the national healthcare conversation. To learn more about Time Counts, a global call to action initiated by Embracing Carers earlier this year in partnership with actor/caregiver Sean Hayes is inspiring people to give the precious gift of time to the caregivers in their lives, please visit embracingcarers.com