NEW PRODUCTS READY, SET, GO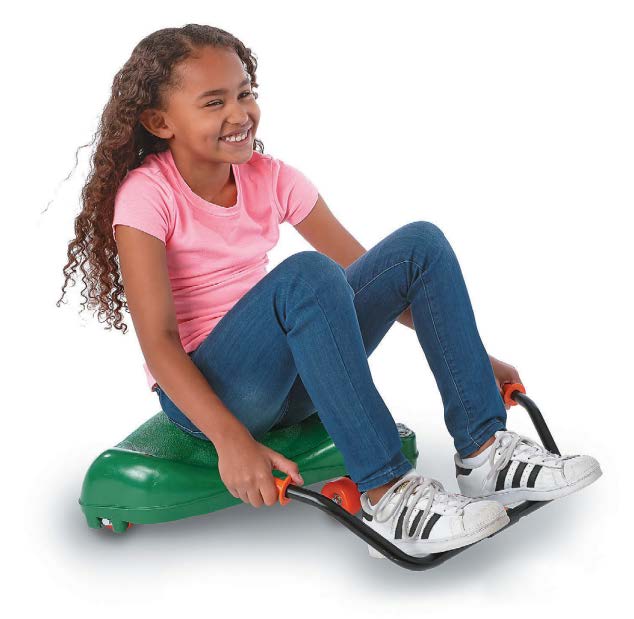 THE ORIGINAL FLYING TURTLE SCOOTER
The Original Flying Turtle Scooter is a scooter designed for children of all ages with mobility impairments to encourage balance, coordination, muscle strength, and endurance. The child swings the handle bars back and forth to propel themselves forward. Suitable for use on linoleum, hardwood floors, concrete, pavement. Comes completely assembled. It is self-propelled, using no motor or no battery. Made of injection molded polyethyl ene seat and large polyurethane wheels; molded polyethylene hand grips and chrome-coated handlebars. Comes in green or purple. Weight limit 150 pounds.
FAT BRAIN TOYS 20516 Nicholas Circle Elkhorn, NE 68022 Phone: 800-590-5987 Fax: 402-779-3253 Web: fatbraintoys.com Email: cs@fatbraintoys.com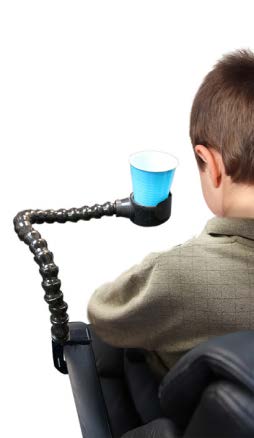 EASY FLEX MOUNT
The Easy Flex Mount is a flexible mount that allows users in wheelchairs to access cups and bottles while in their chairs. Designed with an adjustable Velcro strap, it also has a flexible tube that can be positioned to meet the needs of the user. The Mount's clamp attaches to wheelchairs, tabletops, strollers and high chairs. Length: 20 inches. Weight: one pound. No battery required.
ENABLING DEVICES 50 Broadway Hawthorne, NY 10532 Phone: 800-832-8697 Fax: 914-747-3480 enablingdevices.com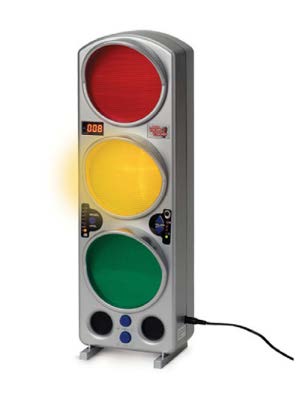 YACKER TRACKER NOISE LEVEL MONITOR
The Yacker Tracker Noise Level Monitor is used to monitor noise levels in the classroom, childcare, or home. The Green light stays lit until noise in the room goes above a set level (determined by user), the green light is then replaced with a flashing yellow light as a warning. When the sound level reaches 15 decibel above the set level, the red light and siren are activated. It can stand on its own or be mounted to the wall and plugs into any standard 120 volt electrical outlet. It looks like a traffic signal. Users select the appropriate sound level for any given situation and let the Yacker Tracker be an audio-visual reminder when the noise level gets too high. Plugs into AC 120 volt electrical outlet with included UL approved transformer or can be used with 6 AA alkaline batteries (sold separately). The delayed alarm function will sound when noise continues for more than 2 seconds. Approximately 17 inches high.
ENABLEMART 865 Muirfield Drive Hanover Park, IL 60133 Phone: 888-640-1999 Fax: 800-235-1305 Web: enablemart.com Email: sales@enablemart.com
The ABLEDATA database of assistive technology and rehabilitation equipment contains information on more than 30,000 products for persons of all ages who have a physical, cognitive, or sensory disability. Products are chosen for these pages by the ABLEDATA staff based on their specific applicability to or design for children who have disabilities. ABLEDATA, operated by New Editions Consulting, Inc., is funded by the National Institute on Disability and Rehabilitation Research (NIDRR) under contract number ED-OSE-13-C-0064. For more information on these and other assistive devices, or to submit product information for the database (and possible inclusion on this page), contact: ABLEDATA, 103 W. Broad Street, Suite 400, Falls Church, VA 22046; phone: 1-800-227-0216; TTY — 703-992-8313; website: abledata.com; email: abledata@neweditions.net; twitter: twitter.com/AT_Info; Facebook: facebook.com/abledata.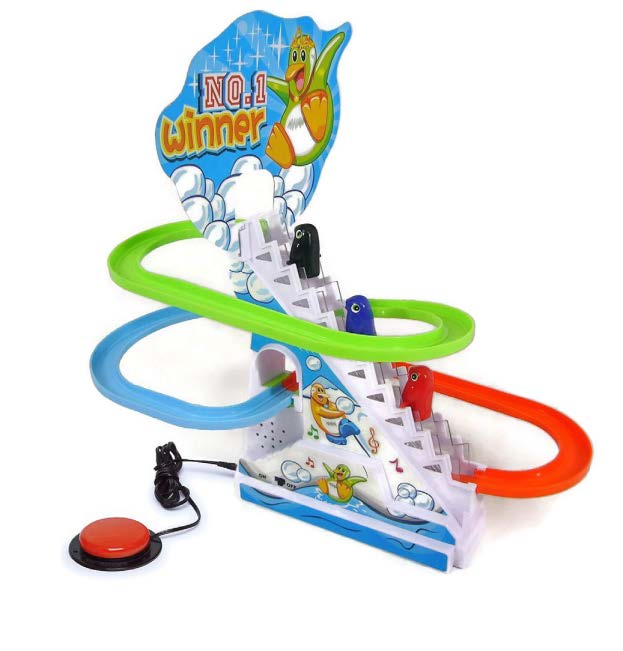 PENGUIN ROLLER COASTER STIMULUS REWARD SWITCH TOY
This Penguin Roller Coaster is a switch adapted toy that helps to teach children cause and effect. When the switch is activated, the penguins climb to the top of their iceberg and "swoosh" down the slide to the bottom. The Penguin Roller Coaster Stimulus Reward Switch Toy sends penguins up the stairs and down the slide when activated. A capability switch can be used. The Penguin Roller Coaster Stimulus Reward Switch Toy helps teach cause and effect, visual attention, and tracking skills.
REHABMART 1353 Athens Hwy Elberton, GA 30635 Phone: 800-827-8283 Web: rehabmart.com Email: assistance@rehabmart.com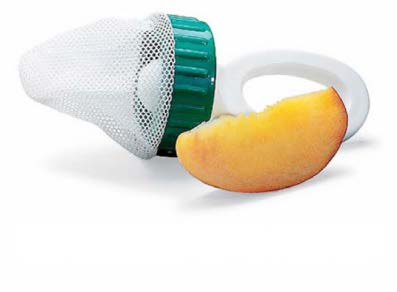 ORAL MOTOR THERAPY FEEDER
The Oral Motor Therapy Feeder enables solid foods to no longer be a choking hazard for children or those with difficulty chewing or swallowing. Drop the mesh bag into a retainer ring, place the food in the bag, and screw tight. The mesh bag lets children practice their chewing skills without the risk of choking. The feeder is an ideal tool for those wanting to introduce new flavors and textures to the sensory defensive child who would normally just spit them out. Solid foods are no longer a choking hazard. One size.
SENSORY UNIVERSITY TOY COMPANY Web: sensoryuniversity.com Email: sales@sensoryuniversity.com Phone: 888-831-4701 Fax: 770-904-6418
E-Z SPOON
The E-Z Spoon is designed for those individuals with eating disabilities to ergonomically dine. It's helpful for young children and/or individuals with poor motor control with its shallow bowl and narrow size. It is ideal for those who have difficulties removing food from a spoon. Useful for small/narrow mouths. Available in two versions: green (firm and rigid) and yellow (soft and rigid enough to contain food, but soft enough to flex when needed). Features a thick, tapered handle, and slip-resistant grip. Dimensions: 5 inches in length (spoon) and 1.1 length x 5 inches width (bowl of the spoon).
ESPECIAL NEEDS 1850 Borman Court St. Louis, MO 63146 Phone: 877-664-4565 Fax: 800-664-4534 Web: especialneeds.com ABLEDATA Over 40,000 assistive te