HOLIDAY CHILD'S PLAY
SIT TIGHT WEIGHTED LAP PAD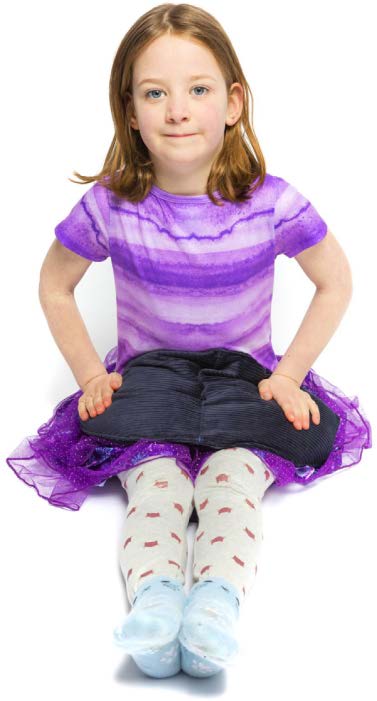 The Sit Tight Weighted Lap Pad helps children and adults improve their focus, attention span, and stay seated longer. The gentle pressure of the Sit Tight helps the user stay calm and focused. It is smaller than a weighted blanket and designed to stay on the lap while seated with use of its waist strap, that securely fastens around the back. The lap pad provides deep touch to the skin which is an effective tool to help your child stay in their seat and focus on their work whether it is circle time, home/school work, or mealtimes. To use, place the Sit Tight on the lap during meal time, sit and listen times, or resting times at home or at school. It features a strap that fastens around the waist to help ensure it will stay put while a child is seated. The strap is closed by a buckle and the size of the strap is adjustable. Children can also carry the Sit Tight across the room when a break is needed. The Sit Tight provides a little extra weight when a child takes a walking break. This can help improve their focus when they return to sit and work. Available in small, medium, and large.
ENABLEMART 865 Muirfield Drive Hanover Park, IL 60133 Phone: 888-640-1999 Fax: 800-235-1305 Web: enablemart.com Email: sales@enablemart.com
ADAPTED MUSICAL CYMBAL
The Adapted Musical Cymbal is a musical instrument that can be used during music time or circle time by activating a capability switch. Users can create a great percussive sound when the drum stick strikes the cymbal. This Adapted Musical Cymbal teaches cause and effect, music appreciation, and helps increase visual attention. Product is 10 x 8 x 4 inches. Weighs 2 pounds. Requires 4 AA batteries. Color may vary.
ENABLING DEVICES 50 Broadway Hawthorne, NY 10532 Phone: 800-832-8697 Fax: 914-747-3480 Web: enablingdevices.com
B-CALM HEADPHONES FOR KIDS 
The b-Calm Headphone system is a noise reduction ear muffs system. This system features headphones with audio engineered "acoustic shield" tracks. These tracks feature designed white noise that makes typically distracting noises unnoticeable to the listener. It also features soothing nature tracks to help calm and recenter agitated students. The system can be used to help students block out distracting noises to help with focus or to protect kids from over stimulation. Individuals will love how disturbing noises are blocked and replaced with familiar and soothing sounds from nature and the world around them. Each b-Calm system includes a pair of headphones, ear buds, "acoustic shield" soundtracks, black carrying bag and an MP3 player.
NATIONAL AUTISM RESOURCES 77 Solano Square #308 Benicia, CA 94510 Toll Free: 877-249-2393 Fax: 877-259-9419 Web: nationalautismresources.com
ABLEDATA
The ABLEDATA database of assistive technology (AT) and rehabilitation equipment contains information on more than 50,000 products for persons of all ages who have a physical, cognitive or sensory disability. Products are chosen for these pages by the ABLEDATA staff based on their specific applicability to or design for children who have disabilities. ABLEDATA, operated by New Editions Consulting, Inc., is funded by the National Institute on Disability, Independent Living, and Rehabilitation Research (NIDILRR). For more information on these and other assistive devices, or to submit product information for the database (and possible inclusion on this page), contact: ABLEDATA, 103 W. Broad Street, Suite 400, Falls Church, VA 22046; phone: 1-800-227-0216; TTY: 703-992-8313; website: abledata.acl.gov; email: abledata@neweditions.net; Twitter: twitter.com/AT_Info; Facebook: facebook.com/abledata; Pinterest: pinterest.com/AT_Info
PATCHWORK CRAWLY MAT
The Patchwork Crawly Mat is a mat for school age activities. It can shield students from non-hygienic surfaces and provide a gentle, soft place for play. The mat is made of 1-inch thick virgin foam and features 6 different colors. The vinyl covered nylon mat easily wipes clean. Can be used for social interaction and engagement, for developing an artistic eye, or color coordination. Mat measures 57 x 57 x 1 inches. Not suitable for tumbling or gymnastics.
ESPECIAL NEEDS 1850 Borman Court St. Louis, MO 63146 Phone: 877-664-4565 Fax: 800-664-4534 Web: especialneeds.com
2-IN-1 TALKING BALL LEARNING TOY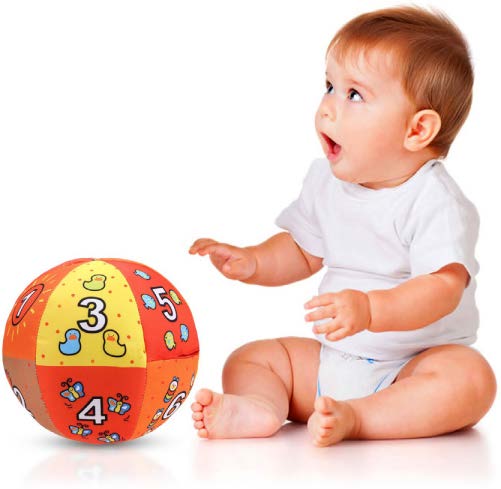 The 2-in-1 Talking Ball Learning Toy is a developmental toy designed for kids of any age. The ball can be used for indoor tossing, catching, kicking, and rolling, helping babies, toddlers, and preschoolers develop gross motor skills as they play. Kids can toss it back and forth to hear the ball say the ABCs or count to 10. To use, flip a switch to select the mode you prefer, then turn the reversible fabric panels to highlight counting quantities, alphabet artwork, and bright colors and patterns. The layered graphics also offer detail to engage children's minds as they grow, gently introducing more advanced concepts such as odd and even numbers or vowels and consonants in a graphical way, and inviting exploration and discovery at a child's own pace. It can introduce early learning concepts in a playful, physical way. Can be used to help develop sensory, fine motor, gross motor, logical, linguistic, emotional, communication, and self-esteem skills. Ball measures 7.5 x 7.5 x 9 inches.
MELISSA & DOUG PO Box 590 Westport, CT 06881 Phone: 800-718-5365 Web: melissaanddoug.com Email: Owners@MelissaAndDoug.com