CONNECT AND DISCOVER
Join EP's Facebook Community
EP's revamped Facebook page welcomes you to share stories, discover resources and connect with the special needs community. Parents and families with members with special needs benefit greatly from meaningful interaction with peers facing the same challenges and joys. Facebook has provided the EP readership community with a convenient and effective platform to communicate, ask questions, promote events and share special moments.
Connect, Share and Discover with EP facebook.com/exceptionalparentmag
Visitors can access the latest news and articles from recent issues of EP Magazine, and provide feedback and insight of their own. EP's Facebook page an open community group for parents, grandparents, family and friends of people with special needs family members. It's an ideal place for both parents and professionals to share information and resources.
Parents, teachers, academics and professionals that are willing to help each other by sharing knowledge and resources are a vital part of the EP community. Like us today!
STATE-OF-THE-ART SNOEZELEN ROOMS AT ARC BROWARD

A LIGHT TOUCH: Snoezelen Multi-Sensory Environments are relaxing spaces that help reduce agitation and anxiety, but they can also engage and delight the user, stimulate reactions and encourage communication.
For persons who may be physically or visually impaired, deaf or hard of hearing, or struggle with language, communication or difficulties with motor skills, there are engagements designed for all users within a Snoezelen room, without restriction of age or ability.
The multisensory environments have a soothing effect on their clients using calming sounds, captivating aromas and tactile experience of vibrations, vibrosonic sensations, and gentle movement designed specifically to engage and comfort someone experiencing high levels of anxiety or agitation, focusing on relaxation, development, stimulation and therapy, helping to improve the quality of life. Two Snoezelen rooms have been installed at Arc Broward: a  large classroom designed to stimulate the senses and provide opportunities for interaction, where IBS participants can spend the day, as well as a smaller space more conducive to relaxation and calming when needed. For more than 60 years, Arc Broward has worked hand-in-hand with our community, changing how people with disabilities and other life challenges are embraced and included.
This critical work ensures that people with disabilities not only live, learn, work, and play in their communities, but more important, thrive. Through the manipulation of lighting, atmosphere, sounds and textures for the specific needs of the client at the time of use, the Snoezelen MultiSensory environment allows the individuals to organize and respond appropriately to the stimuli most suitable for them.
The addition of the Snoezelen rooms were made possible by the great generosity of the Taft Foundation, whose mission to improve the lives of children and adults with intellectual and developmental disabilities greatly aligns with that of Arc Broward, and in collaboration with Flaghouse.
The Haley's Joy Swing, is used to strengthen the vestibular system, the knowledge of where the body is in relation to other objects.  Lying flat on the swing has been proven to improve mood, increase focus and calm our body's "fight or flight" response.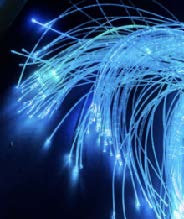 The Fiber Optic Light Spray, safe to the touch, soothes through its vibrant blue color cascading from the ceiling, encouraging interactions that promote the use of motor skills and tactile sensory awareness.
The Abbotsford Chair reduces stress and restlessness with soothing vibrations and sounds.
The Infinity and Beyond Panel features sounds effects and music in conjunction with shapes and colors that are controlled by push buttons, making it a great proponent of hand-eye coordination.
RARE DISEASE COMMUNITY CALLS ON CONGRESS & FDA TO ENACT LIFE-SAVING PUBLIC POLICY SOLUTIONS
Hundreds of rare disease advocates from around the country were recently brought to Washington, D.C. by the Rare Disease Legislative Advocates (RDLA), a program of the EveryLife Foundation for Rare Diseases (ELF). The group gathered in the nation's capital to implore Congress and the U.S. Food & Drug Administration (FDA) to take actions that will change the face of rare disease diagnosis and treatment forever.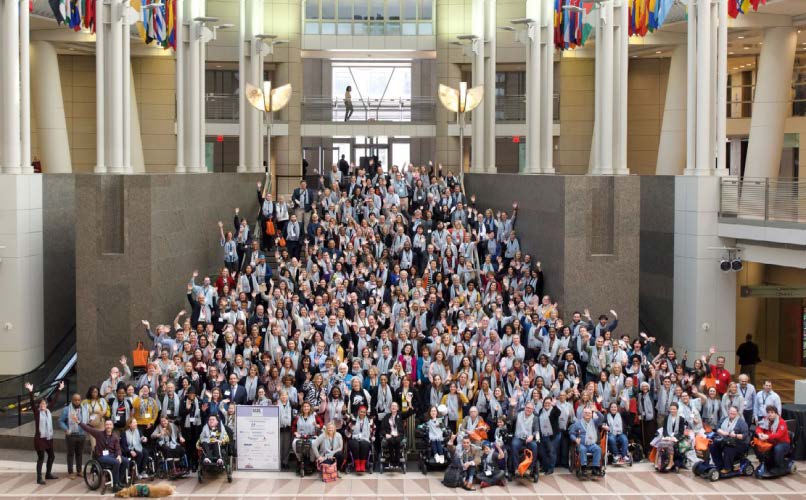 SHOW OF STRENGTH: Rare disease community members from across the country gather at the Ronald Reagan Building during Rare Disease Week on Capitol Hill to be educated on federal legislative issues, meet other advocates, and share their unique stories with legislators.
"More than 30 million Americans are diagnosed with a rare disease, yet 93% of these rare diseases have no FDA approved therapies. This is unacceptable. The enactment of common-sense legislation is the only way to address this public health crisis and ensure that all rare disease patients have access to early diagnosis and lifesaving treatments," said Julia Jenkins, Executive Director of ELF.
RDLA presented the RareVoice Awards to honor individuals who have demonstrated leadership in advocating for federal and state public policy solutions that benefit rare disease patients. Among those honored: United States Senator Roger Wicker (RMS) and Representative Lucille Roybal-Allard of California (D-40). "Every life matters and every voice deserves to be heard. We are here to ensure Congress and the federal agencies understand it is within their power to put into place life-saving solutions, giving every person with a rare disease the opportunity for safe, effective and affordable treatments," concluded Ms. Jenkins.
Rare Disease Week on Capitol Hill brings rare disease community members from across the country together to be educated on federal legislative issues, meet other advocates, and share their unique stories with legislators. In 2020, the week of events will start with the Rare Disease Congressional Caucus briefing, which will convene policy experts and rare disease stakeholders to educate Congressional staff and the public on issues of importance to the rare disease community.
All events are free for patients, caregivers and other advocates but advance registration is required for each event. Please sign up for our email list at everylifefoundation.org/newsletter-signup or check RDLA on Twitter, Facebook, and Instagram for updates.
ABOUT THE EVERYLIFE FOUNDATION FOR RARE DISEASES: The EveryLife Foundation for Rare Diseases is a 501(c)(3) nonprofit, nonpartisan organization dedicated to advancing the development of treatment and diagnostic opportunities for rare disease patients through science-driven public policy. The Foundation does not speak for patients, but instead provides the training, education, resources and opportunities to make patient voices heard. By activating the patient advocate, the Foundation believes it can change public policy and save lives.
EVERYLIFE FOUNDATION IDENTIFIES PRIORITIES IN POLICY AGENDA
300+ rare disease patients and advocates were in Washington, D.C. to advocate for policies that will ease the physical, emotional and financial toll taken on patients by more than 7,000 rare diseases. At the recent Rare Disease Congressional Caucus Briefing. ELF outlined its public policy agenda, including several key priorities:
• Calling on Congress to pass the Newborn Screening Saves Lives Reauthorization Act (H.R. 2507 & S. 2158) ( everylifefoundation.org/newborn-screening), that supports the screening of newborn babies in all 50 states for rare diseases. Currently, this legislation has expired, putting the health of newborn babies through America's most successful public health program at risk. The need for quick passage of the Newborn Screening Saves Lives Reauthorization Act, is epitomized by the story of Erica and Chloe Barnes. Erica lost her daughter, Chloe, to a rare disease. Had newborn screening been available to Chloe, her rare disease would have been detected at birth and treatment made available immediately. Instead, her mom faced heartbreak, a delayed diagnosis, and medical system unequipped for her family. She has since become a tireless advocate for newborn screening ( minnesotaalumni.org/stories/university-to-form-rare-disease-advisory-council) and efforts to remove other barriers to proper healthcare through her work at the University of Minnesota. 
• Urging the FDA to establish an FDA Rare Disease Center of Excellence ( everylifefoundation.org/fda-center-excellence) as authorized by Congress' passage of the 21st Century Cures Act in 2016. The Center will help advance the pharmaceutical treatment pipeline for rare diseases, especially those (93%) that currently have no FDA approved treatment options.
• The launch of a first-of-its-kind project to measure the real economic impact that living with a rare disease has on patients, caregivers, healthcare providers, insurers, employers, schools, and other stakeholders. Results will be published in 2020, then shared with Members of Congress to help ensure that all cost considerations are factored into critical evidence determinations and public policy decisions. Two other patient stories highlight the need for common-sense legislation: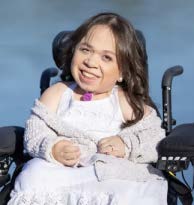 • Isabel Bueso, a native of Guatemala, came to the U.S. to participate in a clinical trial for mucopolysaccharidosis type VI (MPS VI), and for six years has become an advocate for rare diseases during treatment. Due to a change in federal immigration policy that eliminates the ability of patients from outside the U.S. to remain in America during clinical treatment, she is currently facing deportation. Courageous and undaunt ed, Isabel is working with members of Congress to seek a permanent solution for her and all rare disease patients affected by the new policy. Read more about Isabel's journey at everylifefoundation.org/everylife-foundation-statement-on-uscis-action-on- deportation-requests-impacting-rare-disease-patients
• Aidan Abbott, a 14-year-old teen from Slinger, Wisconsin, is working with Senator Tammy Baldwin (D-WI) to pass the Ensuring Lasting Smiles Act ( baldwin.senate.gov/press-releas- es/ensuring-lasting-smiles-act-2019). Aidan was born with ectodermal dysplasia (ED), a rare congenital disease that affects hair, skin and sweat glands. Some patients with ED are born without many or all of their teeth and suffer collapsed jaws and facial deformation. The Ensuring Lasting Smiles Act would ensure health plans cover medically necessary services related to a patient's anomaly or birth defect, including any serious dental and oral-related procedures that are necessary to maintain health and overall function. •