SHELLY HUHTANEN
Tell Me What You Really Think
Broden, as usual, taught me something that day. Sometimes, you just gotta say, "Screamin' Banshee" to get what you want.
It never fails. It doesn't matter how many times I tell myself that we will not procrastinate next year, we always do. I'm talking about Spirit Week. The week when the kiddos have a theme for every day of the week to show their school spirit. My oldest child, Hayden, really gets into it but likes to notify me of his vision a few days before. If I try to pry any intel out of him, I may be able to plan one or two days in advance, but that is usually as good as it gets in my house.
A few weeks ago, with Spirit Week on the horizon, I thought I was doing good. I knew one day involved a Spiderman costume with goggles. The online costume store was alerted and a package was on its way without the need for excessively priced shipping. Two days before the week of epic amusement, Hayden comes downstairs and tells me that Monday is pajama day and he would be wearing his polar bear pajama pants. The polar bear pajama pants that he owned were two sizes too small. The pajama pants looked like Spanx capris. Deliriously I said, "Hayden, you're not leaving the house in those. Actually, I don't know why you still have them."
On cue, the drama began, "Mom, I need to wear pajama pants to school Monday. It's my theme." As the mom, right on cue, I forgot that he gave me two days of notice and I began to solve the problem. I found a store that sold polar bear pajama pants. It was located in a shopping area I have not been to yet and it was in an area of town I had not visited. With Mark and Hayden already having plans the next day, I turned to Broden, "Broden, you and I are going to venture out to a new part of town tomorrow. It will be fun!" Broden had an unenthused look on his face. He knew what was really happening. Due to his big brother's inability to plan, he was not going to be able to relax. Broden would be an innocent victim of a plan to make Hayden's Spirit Week vision become a reality. Yes, I got that message from the look on his face.
The drive was pretty smooth for the first fifteen minutes and I could tell from Broden's facial expressions that he was starting to think so too. Our feelings changed dramatically once we veered off the highway towards an exit that included us in a traffic jam of overly excit ed holiday shoppers. I wanted to roll down the window and scream, "Wait for the online sales! Amazon has next day shipping!"
As we nudged our way through two traffic lights while I was checking my phone navigation, I looked to the right and I gasped in disbelief. The Gap store is not in an open mall where we can just drive up to the store, get out, grab the pants and go. That would be too easy. I would have to navigate one of the largest shopping malls I had seen in a long time, with Broden in tow. I drove around and found a parking spot located in an area where I would have a better chance of not getting lost.
I got out and opened the door to Broden. The look on his face read, "Are you kidding me?" I told him, "I know, man. The mission is to get the pants and then we run out of there. I promise." He reluctantly slid out of the car and held on to my arm for comfort. He really wasn't sure what was waiting for him in that huge monstrosity of a complex, but he was willing to try. Once we walked through the doors, the area was crawling with people, children screaming, heals clamoring on the hard floors, and strange scents billowing from the food court. I could sense what he was feeling and the farther we walked away from the front door, the harder he clasped my arm.
As I started to jog towards the Gap I said, "Broden, we're grabbing the pants, heading to the register, and then we're out of here." Broden looked forward with beady eyes and pursed his lips. After maneuvering through the kid's department, we found the pants in the men's department and raced to the cash register. I quickly threw the pants on the counter, grabbed my wallet and had my credit card in hand. The gal at the register was quite unique, if I do say so myself. She was unaware of my sense of urgency and didn't seem to care that there was a line that was forming behind me with people who also wanted to purchase items.
She casually "I found a store that sold polar bear pajama pants. I said to Broden, 'You and I are going to venture out to a new part of town tomorrow. It will be fun!' Broden had an took the pants and softly said, "Are you using a gift card?" I quickly said no as I waved my credit card in front of her face. She then asked, "Are you using any reward points?" I say a little louder, "No ma'am, just want to buy the pants." Then she shifted her weight to her right hip and asked nonchalantly, "Do you have a Gap card and, if you don't, do you want to apply for one? It's 10% off this purchase." As I leaned into the counter about to share a few choice words with her, Broden, with his piercing beady eyes, looked at the cashier and said, "Screamin' Banshee."
The look on her face was priceless. She had no idea what those words meant, but she knew what he was thinking. She stopped talking, looked at me and quickly said, "Swipe your card please." I swiped, grabbed the bag, and we ran out the door and didn't look back. Once we got in the car, I looked in my review mirror at Broden. We took a deep simultaneous sigh of relief. We did it. We got the pants and Hayden was able to keep his theme for Spirit Week.
Broden, as usual, taught me something that day. Sometimes, you just gotta say, "Screamin' Banshee" to get what you want. •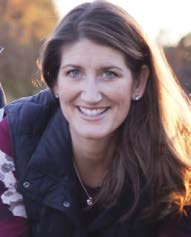 PUZZLES & CAMO
Shelly Huhtanen is an Army wife stationed at Fort Benning, GA who has a child with autism. She enjoys sharing her experiences of day-to-day life caring for her son with autism while serving as an Army spouse. She authored "Giving a Voice to the Silent Many" that encompasses many stories of raising a child with autism in the military. Shelly is passionate about autism advocacy for our military and works to bring awareness to our local legislators and command about providing better support for our military autism community, such as better health care and education.