Introducing Our All-New Website EP-MAGAZINE.COM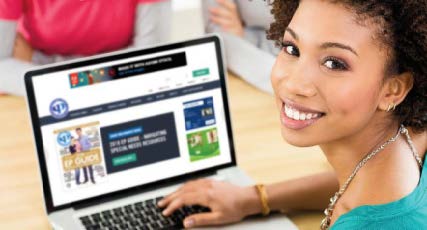 Exceptional Parent Magazine is announcing the launch of ep-magazine.com – our all new website which coincides with our expanding role as a leader in the field of special needs publishing and communications. ep-magazine.com now features a bold new design and intuitive site-wide navigation system with improved menu functionality that directs you to the information most relevant to you.
It is also fully responsive with mobile devices, making it easy to navigate on a wide range of web browsers and portable devices. We've introduced a range of new content to the website, including In This Issue that highlights selected content from our latest issue, and From Our Contributors, which features the most recent offerings from regulars such as Genetic Alliance and the AADMD. Our eNewsletter is the latest innovation in our digital strategy, enabling you to access the articles that matter to you each and every week.
We also plan to continue adding more video content and product information to provide you with all of the resources you need to care and plan for your loved one with special needs.
PLEASE NOTE that our previous web address, eparent.com, is no longer associated with our magazine.
AUTISM SPEAKS AND DNASTACK COLLABORATION
Accelerating Scientific Discovery on One of the World's Largest Autism Genome Databases DNAstack, a software company that develops a cloud-based platform to manage, analyze and search genomic datasets, and Autism Speaks recently announced a collaboration to enhance the Autism Speaks MSSNG research portal, designed to facilitate research to understand the complexities of autism spectrum disorder.
Through this collaboration, DNAstack will organize one of the largest collections of autism genomes in the world, making them more accessible and analyzable, accelerating the pace at which researchers can use the resource to make discoveries.
The Autism Speaks MSSNG project will help researchers answer the many remaining questions about the genetic underpinnings of autism by sequencing the DNA of more than 10,000 families affected by autism. The omitted letters in MSSNG (pronounced "missing") represent the missing information about autism that the research program seeks to deliver. Through the MSSNG Database for Autism Researchers, the project provides open access to de-identified whole genome sequences as well as tools for analysis, with the aim of advancing personalized treatments by deepening understanding of the many subtypes that make up the autism spectrum.
"Sharing data in the MSSNG database and making it easy for researchers to analyze is crucial to our goal of understanding autism and accelerating discoveries," said Dr. Dean Hartley, Autism Speaks senior director of discovery and translational science. "We are excited about how our relationship with DNAstack will help us move the needle on open science. Their technology will bring this resource to a new level by empowering researchers to more efficiently investigate genomic data." Dr. Hartley adds that this collaboration will also increase accessibility by building on global standards developed through the Global Alliance for Genomics and Health (GA4GH).
Despite decades of research, there is much more to be done to understand the genetic variations that lead to differences on the spectrum, and to develop more personalized and effective treatments and support services. Working with Autism Speaks, DNAstack will build new features that will make it easier than ever before for autism researchers to use the data within the MSSNG resource, including:
GAINING THE UPPER HAND: Research using the MSSNG genomic database has identified 61 genetic variations which could lead to earlier diagnosis and potential personalized treatments for autism.
• A data discovery portal that allows researchers to find datasets of interest based on genomics and clinical features, and create custom collection;
• A bioinformatics workflow integration allowing researchers to run custom and best-in-class analyses in order to, for example, find new variants or do case/control studies;
• A data-sharing beacon enabling researchers worldwide to identify autism-specific information about genomic variants of interest.
"The genetics of autism is complex, but we've made great progress because the research community can access genomic information," said Dr. Stephen Scherer, research director of MSSNG, and director of the Centre for Applied Genomics at Toronto's Hospital for Sick Children (SickKids) and the McLaughlin Centre at the University of Toronto.
"MSSNG is a powerful resource to identify new subtypes of autism and study their underlying genetics and biology. Enhancing research capabilities and improving collaboration will further advance scientific discovery in autism." "We believe that sharing data is one of the most important things we can do to accelerate discovery and the realization of precision medicine, not just in autism but in other conditions as well," said Dr. Marc Fiume, CEO of DNAstack and co-chair of the Discovery Work Stream for the GA4GH. "By sharing data on the cloud, MSSNG has set an important precedent in open science. DNAstack is excited to help further Autism Speaks' mission in making this resource even more accessible to the research community and impactful than ever before."
The Arc Responds to the Department of Education's Rescinding of Affirmative Action Guidance
The Trump administration, in June, rescinded guidance the Department of Education provides to colleges, universities and K-12 schools on how they can use race and ethnic background in admissions decisions to promote diversity.
The Arc has released the following statement in response to the Trump Administration's actions: This is the latest of a series of moves that shows this Administration's intentions to chip away at the instruments that have been put in place to increase equity and access to quality education for our country's most vulnerable populations. "Two weeks ago, The Department of Education and the Department of Justice delayed by two years a regulation intended to prevent race-based imbalances in pre-school and K-12 education for students with disabilities, a regulation whose delay was opposed by the vast majority of parents, students and administrators who submitted public comments.
"Earlier this year, the Administration also indicated its intent to rescind a guidance package to prevent racial disproportionality in public school discipline. While guidance documents are non-binding practical tools that help school systems follow the law, the Trump Administration's collective actions make clear that it is scaling back efforts made by previous administrations to encourage diversity in our schools.
This is a troubling trend in policymaking that may lead to poorer education outcomes for many Americans with and without disabilities," said Marty Ford, Senior Executive Officer of Public Policy, The Arc.
WALGREENS RECEIVES TOP-SCORE ON THE 2018 DISABILITY EQUALITY INDEX
Walgreens recently received the top-score of 100 percent on the 2018 Disability Equality Index
The Disability Equality Index® (DEI) is a national benchmarking survey and report on corporate policies and practices related to disability inclusion and workplace equality, administered by the American Association of People with Disabilities (AAPD) and the U.S. Business Leadership Network (USLBN). This marks the second consecutive year Walgreens has earned a 100 percent score from the DEI and named one of the DEI Best Places to Work for Disability Inclusion.
"Walgreens is proud to foster a disability inclusive culture through two programs to train and hire people with disabilities in our stores and distribution centers, where our team members work side-by-side to perform the same jobs for the same pay," said Carlos Cubia, vice president and global chief diversity officer of Walgreens Boots Alliance, Inc.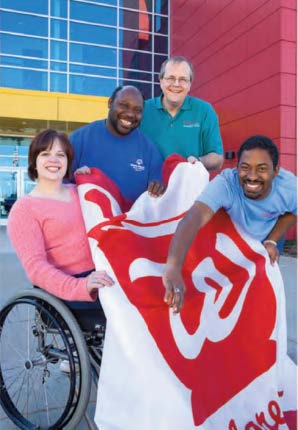 "It's an honor to be acknowledged by the Disability Equality Index for our commitment to a diverse and inclusive workforce that aligns with our purpose to champion the health and well being of every community in America." The DEI is a national, transparent benchmarking tool that offers businesses an opportunity to receive a score on a scale of zero (0) to 100, on their disability inclusion policies and practices. It is a joint initiative of the American Association of People with Disabilities (AAPD) and the U.S. Business Leadership Network (USBLN), developed by the DEI Advisory Committee, a diverse group of business leaders, policy experts, and disability advocates. Walgreens joins the ranks of 126 U.S. businesses, which also earned the designation this year. •