ON YOUR SIDE: MILITARY FINANCIAL SUPPORT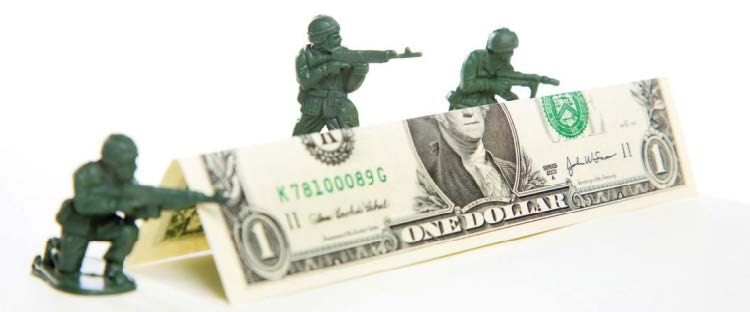 S ervice members and their families have access to substantial resources to save money and manage your expenses. Learn more about ways to save and protect your family's financial health with the following programs:
• Savings Deposit Program
• Thrift Savings Plan
• Low-cost life insurance
• Low-cost loans
• Free college and other benefits through the Post-9/11 GI Bill.
MORE WAYS TO SAVE & TAKE CONTROL OF YOUR FINANCES
About to make a purchase? Or want to pay off your debt? Saving for college? Use a financial calculator to help manage your money. Better yet, meet with a personal financial counselor for free to discuss any money matter. Call Military OneSource 24/7/365 at 800-342-9647.
Achieve everyday savings by shopping at your military installation's commissary and exchange. Shoppers typically save more than 30 percent compared to shopping in town.
Check out Benefits.gov, which houses information on the wide range of benefits available to active-duty military and veterans. A go-to resource for all service members and families, it has information on interest rate reductions, tax benefits, educational and medical benefits, and many other benefits you're entitled to. The Servicemembers Civil Relief Act also provides service members with a range of rights and benefits, from interest rate reductions to eviction protection. Know your rights and available perks.
HELP WITH TAXES
Military OneSource provides free tax preparation and filing services and tax consultations. Military OneSource tax preparation and filing services is an easy-to-use online software product. Free technical assistance is available, if you need it, at 855-897-8639 and follow the prompts. If you have any personal tax-related questions, call 800-342-9647 to speak with a Military OneSource tax consultant.
If you prefer a face-to-face meeting with a military tax consultant, the military-based Volunteer Income Tax Assistance program provides no-cost tax advice and preparation, return filing and other tax assistance to military members and their families. Find a Volunteer Income Tax Assistance location near you.
Earned Income Tax Credits are federal income tax credits for low- and moderate-income working individuals and families. The refundable credit can generate a refund if you do not have any taxes to pay. Service members and families may have an easier time qualifying for the credit because some military income, such as pay earned during service in a combat zone or basic allowances for housing, are non-taxable and are not included in an individual's or family's total income. To find out more about the credit or tax help for military members and veterans, visit the IRS website.
PREVENT IDENTITY THEFT AND FRAUD
The Federal Trade Commission has a website devoted to reporting Identity Theft and getting a recovery plan. Federal law entitles you to a free credit report each year. Check it for suspicious activity. If you're a deploying service member and don't plan to seek new cred it while deployed, place an active-duty alert to reduce the risk of getting swindled.
Monitor your credit report for signs of identity theft—especially if you've lost important papers. All Americans are eligible for a free credit report once a year from each of the three major credit bureaus: Equifax, Experian and TransUnion.
Check out STOPFRAUD.gov for more information on scams that target the military.
File a complaint on the Consumer Complaint Database at the Consumer Financial Protection Bureau if you have an unresolved issue with a company about a financial product or service. Contact the Homeowner Preservation Foundation at 888-995-HOPE (4673) for help with avoiding foreclosure.
HELP AFTER A NATURAL DISATSTER
DisasterAssistance.gov helps you search for disaster relief by the type of assistance you need or by federal agency. The American Red Cross provides disaster recovery information and specific tips for coping with different kinds of disasters, including fires, hurricanes, floods and winter storms.
Learn more about protecting your financial health. Schedule a free financial counseling session with Military OneSource by calling 800-342-9647.
A TRIBUTE
The purpose of Veteran's Day is to honor our heroes, to remember their achievements, their courage and their dedication, and to say thank you for their sacrifices. Thinking of the heroes who live and work among us, and those who are here only in spirit, a person can't help but feel awed by the enormity of what we encounter. The service members we honor today came from all walks of life, but they shared several fundamental qualities. They possessed courage, pride, determination, selflessness, dedication to duty and integrity – all the qualities needed to serve a cause larger than one's self.
Since the first shots at Lexington and Concord were fired and our Revolutionary War began, American men and women have been answering the nation's call to duty.
Millions of Americans have fought and died on battlefields here and abroad to defend our freedoms and way of life. Today our troops continue to make the ultimate sacrifices, and even as we lose troops, more Americans step forward to say, I'm ready to serve. They follow in the footsteps of generations of fine Americans.  Veteran's day, originally called Armistice Day, was originally designated as a day to celebrate the end of World War I. The first World War ended November 11, 1918 and the legislation that created Veteran's Day was, and I quote, "dedicated to the cause of world peace and to be hereafter celebrated and known as "Armistice Day." As time went on and we engaged in further conflicts during World War II and Vietnam, veterans' groups lobbied for a change. Rather than honoring the armistice and only those who served in World War I, the holiday would now honor all veterans from every war and conflict the United States had encountered. We've honored our troops and their service and sacrifice ever since.
We have awarded medals to many Soldiers, added their names to monuments and named buildings for them, to honor them for their bravery. But nothing can ever replace the hole left behind by a fallen service member, and no number of medals and ribbons can comfort the ones left behind.
vice Pilots (WASPS) Veteran's day, originally called Armistice Day, was originally designated as a day to celebrate the end of World War I. The first IMAGE COURTESY THE NATIONAL ARCHIVES Veteran's Day is a way to say we remember. From the Soldiers leaving one of their B-17 Flying Fortresses, the Pistol Packin' Mama, at the Four-Engine School at Lockbourne AAF, Ohio, c.1940. who shivered and starved through the winter at Valley Forge to the doughboys crouched in the muddy trenches of France to the platoon who patrolled the hazy jungles of Vietnam and the young man or woman patrolling the mountains of Afghanistan, we remember and honor them all. Please read on for the poem The American Soldier by Kevin Craig with a photographic tribute.
THE AMERICAN SOLDIER
There is no greater love than when A soldier lays down his life To surrender his right to live In exchange for impending strife.
With complete sacrifice And a war battered song You brave the enemies fields In a kingdom you don't belong.
Armed with valor and A spirit that never wanes You oppose mighty giants In the face of horrendous pains.
You've climbed the highest mountains And stood where kings decree
You've waved our blood stained banner On every shore and foreign sea.
In your heart a Medal of Honor that Brightens the road in which you choose With faith you walk on water In a war you refuse to lose.
With every step you untie liberty Every stride freedom rings Every wound you declare independence With every death the angels sing.
With your hands you've built an empire Behind these walls no slaves are found
To live in a country that stands exalted Where we rally on common ground.
You've stood beside fallen soldiers Who gave their life for one more day That our families may grow in numbers And in our courtyards the children play.
You have no mortal rivals There is none that soar as high With a reach that expands creation And a stretch that touches the sky.
With wings you glide the heavens Adorning colors of red, white and blue As a nation we offer reverence Giving thanks where it's respectfully due.