ACTION WORDS
Action Words is an application for children with learning or intellectual disabilities. This application includes over 100 action words using real photographs to increase their early vocabulary and improve their writing skills. Users can select which category of action words they want to work on (emotions, movements, etc.) and, within a category, turn action words "on" or "off" so they can monitor how many new words are presented in each round. When the user selects which category he or she wants to work on, an action word appears on the screen accom panied by four photographs. The user must select which photograph best depicts the given action word. There are no hints or penalty for selecting the wrong photograph, the user just keeps guessing until he or she chooses the correct photograph. This application is made to be engaging for its user, so the existing 500 photographs, concepts, and accompanying audio are all customizable. Users can also add their own categories, action words, and photographs.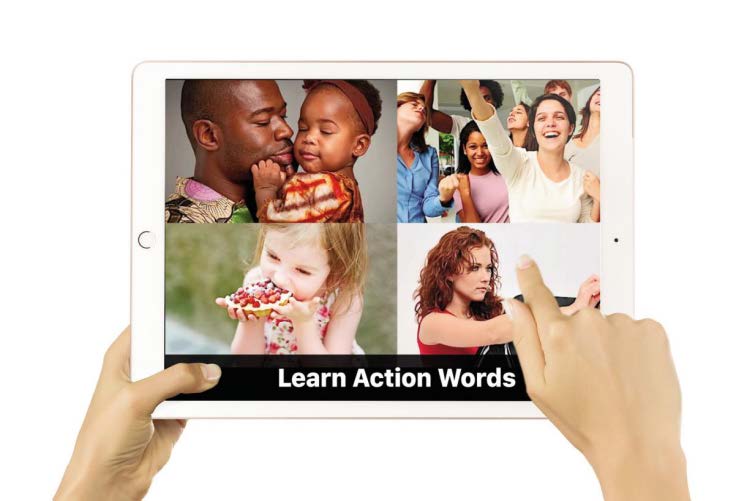 ALLIGATOR APPS Web: alligatorapps.com Email: support@alligatorapps.com
HOLE IN ONE FORK AND SPOON
The Hole in One Fork and Spoon is a set of eating utensils designed for people with limited hand mobility to use. The handles on these eating utensils provide several grasping positions. Fingers can be inserted through the hollow center or wrapped around the outside. The eating utensils are attached to the handle by a swivel screw that allows the utensil to fold back on the handle when not in use. Utensils may be reversed for right- or left-handed use.Easily fits into a pocket or purse for travelers.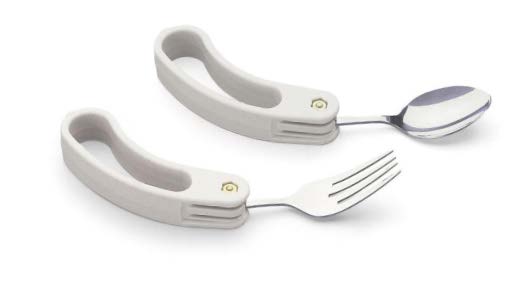 ENABLEMART 865 Muirfield Drive Hanover Park, IL 60133 Phone: 888-640-1999 Fax: 800-235-1305 Web: enablemart.com
OFFBEAT GAME OF RHYTHM
OffBeat Game of Rhythm is a quick game of sequencing and rhythm for individuals who are hard of hearing to play. It encourages sequencing, rhythm, memory, and focus. The aim is to meet the challenge and stay on beat longest. Collect discs for keeping the rhythm the longest. The first player to collect six discs wins. Option to choose playing quadrant suited for the single hand and double hand beat on the board. Alternate game option for younger players included in the rules. Removable discs show the sequence to keep. Disc actions: Ole!, Clap, Snap, Single Hand beat, Double Hand beat, Shh!
FAT BRAIN TOYS 20516 Nicholas Circle Elkhorn, NE 68022 Phone: 800-590-5987 Fax: 402-779-3253 Web: fatbraintoys.com Email: cs@fatbraintoys.com
ABA FIND IT!
ABA Find It! is an application for children with autism spectrum disorder. This app aims to make language learning more enjoyable through interactive lessons with Stanley the Elephant. It helps each child identify objects across different categories using Applied Behavior Analysis (ABA) techniques and high-quality imagery. The app increases difficulty based on successes at lower levels and includes progress reports for parents. The app features fun animated action by Stanley the Elephant for correct responses, levels that incorporate real-life background, and progress reports so you can track your child's progress.
HITESHI TECHNOLOGIES appfutura.com
TWIDDLEPUP ACTIVITY MUFF
The TwiddlePup Activity Muff is a comfortable, warm activity plush for those with diminished hand mobility, limited social interaction, or anyone soothed by repetitive tactile motion. This floppyeared, friendly-faced, soft puppy muff contains a squeeze ball tethered within the center of the muff to promote increased hand flexibility and brain stimulation. The TwiddlePup has 3 removable gadgets: a sealed satin bag containing movable marbles, a strand of textured ribbons, and a loop of colorful wooden beads. On the side is a soft, faux suede pocket for personal essentials and a Velcro pull patch to exercise hands. These multiple sensory activities provide an engaging, entertaining way to occupy the hands.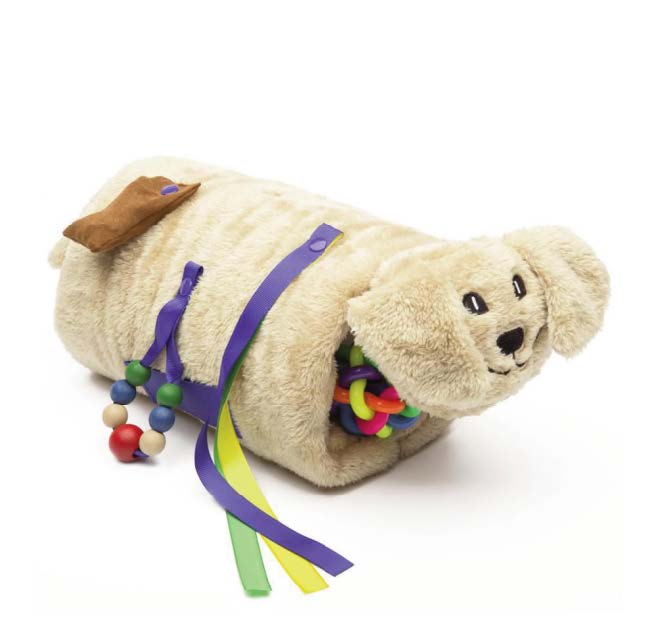 THE WRIGHT STUFF, INC. 111 Harris Street Crystal Springs, MS 39059 Phone: 1-877-750-0376 Fax: 601-892-3116 Web: wrightstuff.biz Email: customercare@thewrightstuff.com
CORRAL BALL POOL
The Corral Ball Pool is a square dry pool with 500 multi-colored polyethylene balls in it designed for toddlers with sensory disabilities to provide proprioception and tactile stimulation. It requires a 53-inch square floor space. The walls are 4-inch thick foam and 12 inches high. The floor (not padded) attaches to wall with hook & loop fasteners.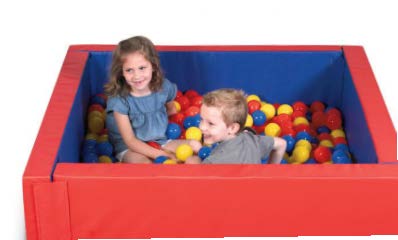 TFH SPECIAL NEEDS TOYS 4537 Gibsonia Road, Gibsonia, PA 15044 Phone: 800-467-6222 Web: specialneedstoys.com Email: barb@tfhusa.com
FLEXI-CUT CUPS
The Flexi-Cut Cups are designed for people with motor disabilities to help promote proper cup drinking during initial independent drinking. Generously cut-out rims help children who are beginning to selfdrink, are limited in oral-motor skills and range of motion, or need assistance in drinking. The cut-out design promotes drinking without neck extension. Cups can be gently squeezed to change the shape of the cup lip and control and direct liquid flow easily. The liquid can be seen through the translucent plastic. Set of 5 flexible cups. Top rack dishwasher safe.
ENABLEMART 865 Muirfield Drive Hanover Park, IL 60133 Phone: 888-640-1999 Fax: 800-235-1305 Web: enablemart.com