MILITARY WIDOW,VETERAN, MOM & AVID GOLFER ONHOW SHE OVERCAME HER GREATESTTRAGEDY
Wesley Bauguess, an army widow, veteran, golfer – and spokesperson for Folds of Honor and Patriot Foundation spokesperson – shares the incredible path that has been forged in her life as a result of losing her husband, Army Major Larry Bauguess. This is all recounted in her new book, God, Country, Golf: Reflections of an Army Widow, which was released by WestBow Press on May 14, 2017, the 10-year anniversary of her husband's death.
Ten years ago, the unthinkable happened when Major Bauguess was shot and killed while acting as a human shield and protecting his unit during an ambush on deployment in Pakistan. Upon his death, Wesley was left a widow and single mom to their two young daughters, Ryann and Ellie. She was thrown into a world she never thought she would have to endure. Yet, though heartbroken and in disbelief, as she recounts in God, Country, Golf, she quickly realized how her life experience had prepared her for such a time as this. "I didn't know how we were going to move on without Larry," said Wesley. "Every day would be a struggle. But I knew how to be a mother, and I knew how to look after our precious little girls. I could focus on that. I knew I could lean on Jesus. I knew He would give me strength. He could get me through anything. And I knew, just like in Commandos, that the best way to get me to do something is to tell me I can't. It wouldn't be easy, but I knew we could get through Larry's loss with the right perspective and motivation."
Wesley found that perspective from clinging to what she knew best. Growing up, she learned the game of golf from her grandfather and went on to play at the collegiate level for Appalachian State University. Through the sport, she gained confidence, respect and a moral compass to help guide her through life. While playing golf, Wesley's thirst for adventure led her to join the college's ROTC program. It was here she not only met but also fell in love with Larry, who eventually led her to Christ. 
Both she and Larry joined the Army after school, an experience that taught her to overcome challenges head on. After five years, Wesley voluntarily stepped aside from the military career she loved to raise her family and support Larry's service. "Ours was not an easy journey," stated Wesley. "Grief is not for the faint of heart. We would have plenty more bumps along the way that would knock us out of sync. In those moments of troubles and trials, we always remembered that God is good."
In God, Country, Golf, Wesley outlines the lessons and values she learned from each of her experiences and the strength gained by her faith, which helped her continue on her path toward healing and remembering God's purpose for her Throughout life. this beautifully written memoir, she shares the very best stories of her life with and without Larry. Major Dan Rooney, founder of the Folds of Honor Foundation, wrote the foreword for the book, saying: "Wesley's stories are captivating, with heartbreak and joy. If you are a Christian, you will love the fellowship. If you are a veteran, a patriot, or both, you will love the inspirational stories. Great American pride and military values resonate through the book. If you are a golfer, you'll relate to the passion Wesley has for that beloved game... God, Country, Golf is a book that will change your life in positive ways. "
God, Country, Golf is available through all major online retailers. For additional information, visit GodCountryGolf.com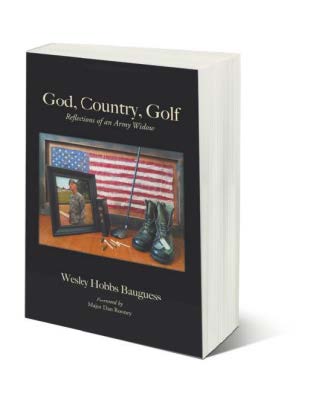 Title: God, Country, Golf: Reflections of an Army Widow
Author: Wesley Hobbs Bauguess
Paperback: 330 pages
Publisher: WestBow Press
Publication Date: April 11, 2017 ISBN-13: 978-1512771404
Available on Amazon.com and BarnesandNoble.com