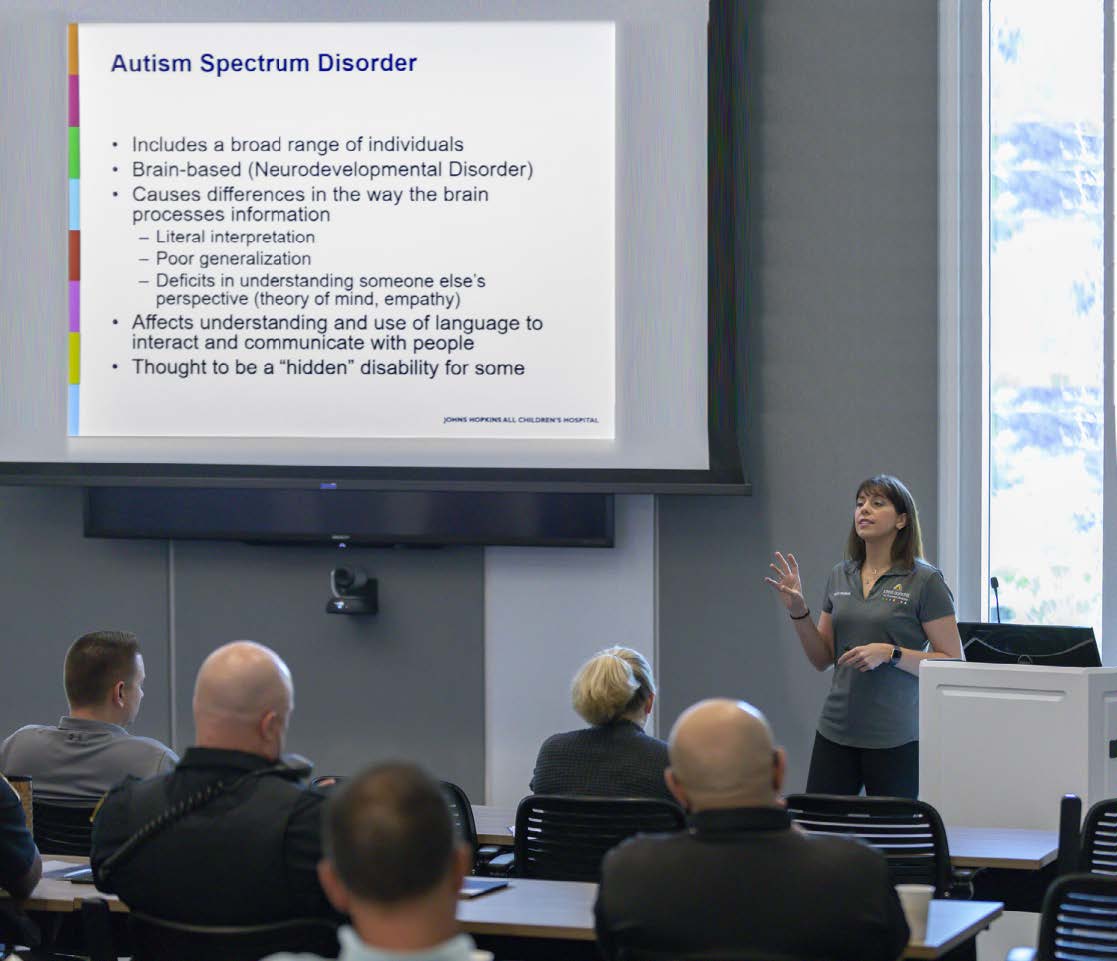 PHOTOS PROVIDED BY DANIELLE CACI
The law enforcement officers approach Gabby with care as she paces back and forth and tears little bits from the paper in her hands, dropping them to the floor.
Clearly upset, she avoids eye contact and talks into her phone. The officers remain calm, gently defusing the situation while following Gabby's lead in conversation. Eventually, they make a connection and the tension eases.
The scenario is part of a training simulation for law enforcement officers in recognizing behavioral characteristics of autism and adaptive their responses in crisis situations to meet the needs of individuals on the autism spectrum. The program was developed by Johns Hopkins All Children's Hospital with a grant from the Cigna Foundation.
"Prior to this training, we are all ... This person is acting this way, so maybe I will have to go hands-on because they aren't listening to me. It may get escalated," said St. Petersburg Police Department officer Carla Ramos, who recently attended the training. "But with a person with autism, with this training, you realize you need to take a step back." About one in 59 children is diagnosed with autism spectrum disorder (ASD). The training program teaches officers how to more effectively communicate with individuals on the spectrum and their caregivers. The goal of this training is to increase positive outcomes by enabling officers to successfully defuse crisis situations that may otherwise result in arrest or involuntary psychiatric hospitalization, says Lauren Gardner, Ph.D., administrative director of the Autism Program at the hospital.
"We have a responsibility to our patients with ASD to assure we are building first responders' awareness regarding their unique strengths and weaknesses, and advocating for their needs in the community across the course of their lifespan from childhood to adulthood," says Gardner, who completed a ride-along with local law enforcement officers when developing the training program. Such training provides law enforcement officers with awareness of the behavioral symptoms and social impairments that may make an individual with autism more vulnerable to be considered a suspect.
For example, if an individual with autism does not respond to police when spoken to, avoids eye contact upon questioning, does not remain still, or tries to flee the scene, these behaviors may be misinterpreted as a sign of guilt as opposed to behavioral characteristics of ASD. When unaware of the social communications deficits and restricted, repetitive behaviors commonly associated with autism, law enforcement officers may mistakenly view these individuals as a danger to themselves or others. In the training program, officers are taught to recognize deficits in social communication that are commonly associated with autism, such as poor eye contact, limited expressive language and impaired conversational speech skills. They also learn about repetitive behaviors such as hand flapping, unusual body movements, repetitive speech patterns, and intense interests.
"Autism is highly variable," says George Jallo, M.D., medical director of the Johns Hopkins All Children's Institute for Brain Protection Sciences. "Some may be severely impaired, whereas others have a mild form. The need for education is critical for all who care for these young children and adolescents as they need to learn how to manage them in school, community or stressful situations."
Florida became one of few states that requires autism-specific training for law enforcement officers after a 2016 incident in North Miami where a police officer shot an unarmed therapist who was protecting his client who had autism. In the first 10 months, the Johns Hopkins All Children's program trained 314 officers from 23 different law enforcement agencies. The training starts with a classroom session in the morning and then moves into interactive simulations that allow officers to practice how to communicate with an individual with autism in a variety of training scenarios that they are likely to encounter.
"This training is significant for the entire community as we are increasing the skill levels of our first responders in deescalating situations where they encounter a child, teen or adult with ASD," explains Jen Arnold, M.D., M.Sc., medical director of the Center for Medical Simulation and Innovative Education at Johns Hopkins All Children's.
"Hands-on, experiential learning, like sim training, greatly enhances the training process. Simulation is a safe place to make mistakes, explore how they occurred and learn how to prevent them in the future," she adds. "We are learning so much and excited to see the program grow to meet this important educational need for law enforcement across the state and even nationwide."•
TO PROTECT AND SERVE: (Opposite page and above) Lauren M. Gardner, Ph.D. leads Johns Hopkins All Children's autism program's law enforcement officer training in Autism Spectrum Disorder, May 10, 2019. The goal of this training was to increase knowledge and awareness of autism spectrum disorder for law enforcement officers with the St. Petersburg Police Department.
ABOUT THE PROGRAM AND ITS DIRECTOR: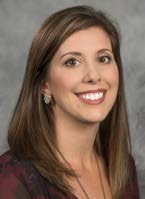 Dr. Lauren Gardner is the psychology internship director and administrative director of the Autism Program at Johns Hopkins All Children's Hospital. She has provided services for children and families with a wide range of concerns, including noncompliance, autism spectrum disorder, developmental disabilities, depression, anxiety and social skills deficits. Dr. Gardner's clinical interests include neurodevelopmental disabilities. She earned her doctorate degree from Indiana University Bloomington and completed an internship in psychology at the University of Tennessee Professional Psychology Internship Consortium and postdoctoral psychology fellowship in developmental/behavioral pediatrics at the University of Tennessee Health Science Center (UTHSC) Boling Center for Developmental Disabilities. Visit HopkinsAllChildrens.org/AutismTraining to learn more about the training program.