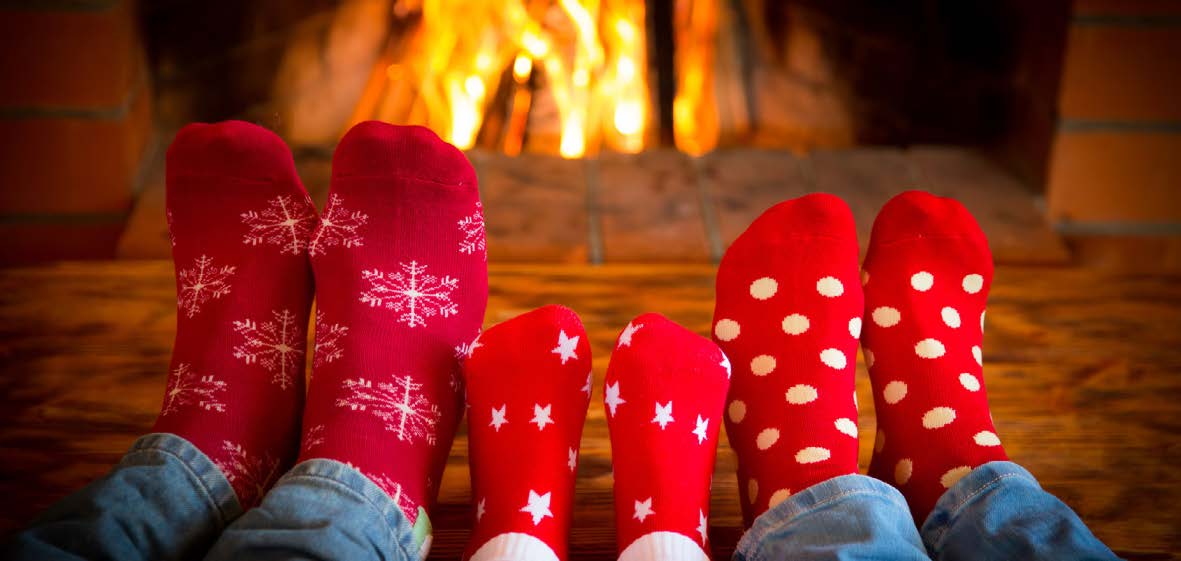 CHRISTINA LLANES MABALOT
Different Shades of the Holidays
Wherever you are in your life's journey and whatever your role, I hope my stories inspire you to focus on the merry and not the crazy side of the holidays.
Holiday experiences strike people's hearts unpredictably, the same way the pointer in roulette hits different outcomes. The season could be "the best of times," or "the worst of times." Celebrations can be a source of great joy, or stress, or both. What may be fun to one person may be distressing to another, depending on an individual's role, circumstances, and focus.
My recollections of holiday events unfold a breathtaking landscape of emotions, interactions, and insights. I want to share them with the community, hoping that we will be enlightened to be sensitive to the emotional needs of everyone during this season. The stories I picked reflect the stark differences in my status and situations in life.
AS AN INDIVIDUAL WITH VISUAL IMPAIRMENT
As a younger woman with visual impairment, I reveled in friends and family reunions, dressing up to the nines and assuming the life of the party. But blaring music, booming fireworks, or riotous yelling can transform me from a graceful social butterfly to a klutzy wicked witch. I would look the part if it were Halloween, but if it were Christmas or New Year's, I'd be the Grinch or bad luck incarnate.
One Christmas evening after dinner, I was absorbed in conversation with a relative while sipping wine, when loud music suddenly blasted the room to signify the start of the merrymaking. Startled, I shot up from the couch. I fumbled to the coffee table to put down my glass, but disoriented and high-strung, my hand swept across the surface, knocking down all the glasses on the table. A squeal of frustration escaped my lips, alarming everybody at the party. Seized by embarrassment, I sped towards my bedroom to hide, but I clumsily smashed my face on the edge of the wall that led to my place of refuge. At that point, I was the center of distraction and a party pooper.
"There goes my effort to be invisible," I fretted.
The taste of blood touched my lips. It was oozing out of a vertical cut along the bridge of my nose. A family friend, a nurse, cleaned my wound. At my request, my folks turned down the music. I rejoined the merrymaking despite the pain. On the lighter side, I was ready for Christmas as Rudolf the red-nosed reindeer.
AS A PRE-SCHOOL SPECIAL EDUCATOR
As a pre-school special education teacher, I took special care in preparing my students for the various holidays and events on the calendar. I showed them pictures and sounds that were symbolic of events (e.g., fireworks for New Year's Day in January) as I introduced the months of the year. This way, my students looked forward to the special days. I included the parents and the community in planning the celebrations to ensure that every child will enjoy, and families will not be burdened. To set their expectations, the children also acted out mock parties. But regardless of preparations, there was always that one child who felt intimidated in a crowd, became overstimulated by bright lights, or got scared at the sight of Santa. Previously, I would be emotionally charged myself, cod dling the child like it was the end of the world. But, over time, I learned that it was perfectly alright for these kids to do alternative activities. It's best to make a child feel that he or she's in a safe place around family and community, especially during festivities.
AS A MANAGER
Christmas carols bring back my best holiday memories when we were managing a massage livelihood for visually-impaired masseurs. We were a full house with about eighteen employees, some of whom had spouses and children living with us in the building. We were the nearest of kin for our personnel, and we wanted to give them an enjoyable holiday experience. We all agreed that the best way we could enjoy the yuletide season was through bringing Christmas cheers to everyone who welcomed us, especially to those who were lonely. So every night after work, we diligently practiced caroling. When we were ready, we serenaded our customers, residential institutions for people with special needs, and families who opened their houses to us, singing Christmas carols. The good deed brought fulfillment to our extended family. Since then, caroling became a tradition which we carried out every year.
AS A MOTHER WITH A VISUALLY-IMPAIRED DAUGHTER
Christmas of 2017 was my worst. Both my kids were out of the country. My son, a US Navy corpsman, was on sea duty and my daughter Jem who, like me, is visually impaired, was in Osaka, Japan, on a study abroad program. I had arranged for Jem to stay with a Filipino friend in Tokyo for the holidays during the winter break. The plan was for my friend to pick Jem up at a café in one of the busiest stations in Tokyo. My daughter took the bullet train to their meeting place on the 24th of December. A few minutes before Christmas eve, she called to inform us that she'd been waiting for hours, but nobody had approached her. I tried to get in touch with my friend but got no answer. My husband and I were in a panic, yet there was nothing we could do to help Jem.
"What a Christmas," I cried, as negativity doused my heart. "Let's just hope for the best," my husband interjected. His words were like magic! My heart instantly opened to the truth that there was hope, and hope is the meaning of Christmas! It was not only the celebrations and reunions, but a living, though yet unseen assurance that, eventually, all shall be well. And it became the merriest Christmas when Jem finally messaged us in the morning that she was safe in my friend's house.
AS A VISUALLY-IMPAIRED TEEN WITH THREE SIBLINGS ALSO VISUALLY IMPAIRED 
Yes, you read correctly. We are four legally blind children, a tight community in and of itself, a whole unit of broken and hurting teenagers. Every year, after the traditional Christmas eve meal and gift-giving, our parents would go to bed and our only sighted brother would hang out with friends. We, on the other hand, were the restless shutins during the season. We couldn't drive, and there were no available means of public transportation, so we resorted to an underground drinking spree at home. My older brother always managed to buy gin and lime juice for the occasion secretly, and the four of us would drink ourselves to intoxication. We commiserated with one another's negative emotions. I enjoyed those no-holds-barred sessions because I could be myself and not worry about feeling inferior, or rejected for being different. I shared my stories about being treated like an outcast or the "strange one" in my social circles. I clearly remember always feeling relieved to discover that my story was also their story and that I was not alone in my lonely island. Those times were my pre-advocacy days and the awakening of my heart to speak up for my community – individuals who, like me, are not disabled, but differently-abled. Such is the healing benefit of a community.
Wherever you are in your life's journey and whatever your role, I hope my stories inspire you to focus on the merry and not the crazy side of the holidays. Every holiday perspective, no matter how imperfect, has a redeeming nugget of wisdom, the real and lasting gifts of the season.
A WORD OF ADVICE
Increasing commercialization has debased our holidays. Giving and receiving gifts, lavish celebrations, and fancy get-ups, among other things, have been the focus of merriment. Consequently, stress and depression usually override excitement during the yuletide season. On this note, I would like to urge everyone to re-create our holidays. We aren't obliged to abide by traditions. Let's think about our priorities and the atmosphere we want to produce – and then plan for it. Come up with activities that will touch the hearts of friends and family. Why not give our loved ones something to remember during the gatherings, like the assurance that they are genuinely valued, hearty laughter, and warm fellowship as we bond during this season? If we want to give gifts that keep on giving, let's take the opportunity to make good memories.
Finally, Thanksgiving Day, the beginning of the holiday season, is an opportune time to reset our attitude. If, on this day, we could count our blessings instead of what we lack, we would have restructured our priorities. Let's be grateful for our joys that overshadow sacrifices, for our abilities that eclipse special needs, for the things we have and can share with a community that understands.•
HEARTSIGHT
Christina Llanes Mabalot is physically blind from aniridia, but has a vision. She enjoys touching people's lives to bring out the best in them. "Heartsight" explains her ability to see with her heart. Christina earned her B.A. degree and Masters in Education from the University of the Philippines, Diliman, specializing in Early Intervention for the Blind. She later received Educational Leadership training through the Hilton-Perkins International Program in Massachusetts, then worked as consultant for programs for the VI Helen Keller International. She has championed Inclusive Education, Early Intervention, Capability Building and Disability Sensitivity programs. She was twice a winner in the International Speech contests of the Toastmasters International (District 75) and has been a professional inspirational and motivational speaker. Christina is blissfully married to Silver Mabalot, also physically impaired, her partner in advancing noble causes. Their children are Paulo and Jem, who has aniridia. Visit leadershiptovision.com