THE HELP GROUP ANNOUNCES STEM3 SPECIAL CHALLENGE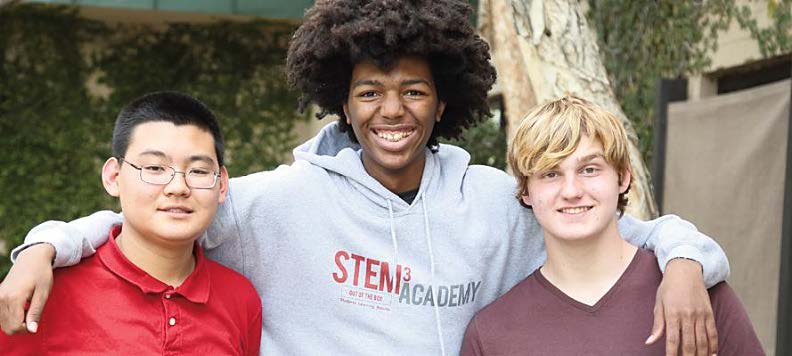 FIELD OF CHOICE: About 35% of students with ASD choose a STEM major compared to 23% of the general population.
The Help Group's STEM3 initiative recently announced the first nationwide STEM challenge for students in grades 6-12 with social, learning or other neuro-developmental differences. For the STEM3 Special Challenge, students need to identify a STEM solution to a pressing issue faced by individuals, communities, or the world at large. The deadline to submit is Tuesday, January 30, and the winners will be notified and awarded cash prizes in different categories on April 1.
"At The Help Group, we encourage young people with special needs to pursue their passion for STEM. With the STEM3 Special Challenge, this is a way to nurture those talents early on," says Dr. Ellis Crasnow, Director of STEM Education at The Help Group. STEM3 is an initiative of The Help Group that provides K-12 STEM education at its nationally recognized STEM3 Academy, a residential boarding option, and a full range of STEM related programs for students and young adults with special needs as well as parents and educators. According to the site STEMconnector, by 2018, 8.65m workers will be needed for STEM-related jobs in the USA. Many students with special needs possess the skills that STEM fields seek. The Journal of Autism and Developmental Disorders reports that about 35% of students with autism spectrum disorders choose a STEM major in comparison to 23% of the general population.
"We're focused on developing strategies and programs for young people with special needs that helps prepare them for opportunities in STEM. We're very excited about this STEM3 Special Challenge, and can't wait to see what the students come up with," says Dr. Susan Berman, COO of The Help Group. Founded in 1975, The Help Group is the largest, most innovative and comprehensive nonprofit of its kind in the United States serving children, adolescents and young adults with special needs related to autism spectrum disorder, learning disabilities, ADHD, developmental delays, abuse and emotional challenges. For more information and to enter the challenge, visit stem3.thehelpgroup.org•
ULTRAGENYX ANNOUNCES FDA APPROVAL OF MEPSEVII™
Mepsevii (Vestronidase Alfa) is the First Therapy for Progressive and Debilitating Rare Genetic Disease Mucopolysaccharidosis Vii
U ltragenyx Pharmaceutical Inc., a biopharmaceutical company focused on the development of novel products for rare and ultra-rare diseases, recently announced that the U.S. Food and Drug Administration (FDA) has approved MEPSEVII™ (vestronidase alfa), the first medicine approved for the treatment of children and adults with Mucopolysaccharidosis VII (MPS VII, Sly syndrome). MEPSEVII is an enzyme replacement therapy designed to replace the deficient lysosomal enzyme beta-glucuronidase in MPS VII patients.
"The approval of MEPSEVII is a pivotal moment for Ultragenyx and for patients suffering from ultrarare genetic diseases for which the investment and development of treatments has not happened yet," said Emil D. Kakkis, M.D., Ph.D., Chief Executive Officer and President of Ultragenyx. "Our development program sought to create a new paradigm in study design and endpoint evaluations to help accommodate the difficulties of studying extremely heterogeneous ultra-rare diseases to fulfill the promise that the science we have all invested in over many years actually becomes something available for patients. I would like to thank the patients and their families for their participation in the clinical program." MPS VII is a rare genetic, metabolic lysosomal storage disorder (LSD) caused by the deficiency of beta-glucuronidase, an enzyme required for the breakdown of the glycosaminoglycans (GAGs) dermatan sulfate, chondroitin sulfate and heparan sulfate. These complex GAG carbohydrates are a critical component of many tissues.
The inability to properly break down GAGs leads to a progressive accumulation in many tissues and results in a multi-system tissue and organ damage. MPS VII is one of the rarest MPS disorders, with an estimated 200 patients in the developed world.
"I am thrilled beyond belief to see this treatment advance after more than 40 years of work and anticipation. Thanks to Ultragenyx for making it happen," said William S. Sly, Chairman Emeritus, Department of Biochemistry at St. Louis University. "I hope that this treatment will follow the other successful examples of enzyme therapy for LSDs and help improve the lives of patients with this rare disease."
MEPSEVII™ (vestronidase alfa-vjbk) was evaluated by the FDA with Priority Review, which is reserved for drugs that offer major advances in treatment or provide a treatment where no adequate therapy exists.
With this approval, the FDA issued a Rare Pediatric Disease Priority Review Voucher, which confers priority review to a subsequent drug application that would not otherwise qualify for priority review. The rare pediatric disease review voucher program is designed to encourage development of new drugs and biologics for the prevention or treatment of rare pediatric diseases.
MEPSEVII will be available to patients in the U.S. later in November. In order to support patients, Ultragenyx has launched UltraCare™, a comprehensive support service that will provide ongoing support to patients and caregivers. UltraCare will help patients obtain coverage and assist with financial support for both medication and administration of medication. Dedicated in-house UltraCare Guides are available Monday through Friday from 9 a.m. to 8 p.m. Eastern Standard Time at 888-7568657 to assist patients their families.
Four Things You Should Know Before Deciding on Long-Term Care
T oday is a good time for those who haven't yet reached retirement age to begin considering some key factors related to health scenarios they might face later in life. "The bottom line is none of us knows ahead of time what our health will be in our 60s and beyond," says Chris Orestis, Executive Vice President of GWG Life (gwglife.com) and author of the books Help on the Way and A Survival Guide to Aging. "Will you need longterm care? If so, to what degree, and how will you pay?"
Statistics suggest that long-term care could very well be in your future. Seventy percent of people over age 65 will require some type of LTC services during their lifetime, according to the U.S. Department of Health and Human Services. Costs can be exceedingly high. The annual-median cost of a private room in a nursing home, for example, is more than $80,000 a year.
SPEAKING TERMS: According to HHS, 70% of people over age 65 will require some type of long-term care services during their lifetime.
On the flip side is the toll taken on family members when they provide SPEAKING TERMS: According to HHS, 70% of people over age 65 will require some type of long-term care services during their lifetime. personal home care. The National Family Caregivers Association reports that more than 75 percent of adults receiving home LTC are being cared for by family and friends. And 37 percent of those informal caregivers had to switch from full-time to part-time employment due to the LTC demands. Orestis lists four questions people should ask when weighing LTC options:
• Does Medicare or Medicaid pay for it? Medicare will not cover LTC for most seniors. It covers LTC only for rehabilitation requiring extended stays in a nursing home for about three months, or LTC for skilled in-home services for a limited period. Medicaid will pay for LTC, but the user's income must fall below a certain level. "Long-term care service providers prefer private pay, such as savings, long-term care insurance or other income," Orestis says.
• What does LTC include? Much of it is assistance with personal tasks, not medical care. Among those tasks are eating, dressing and using the toilet. Additional tasks LTC assists with are meal preparation, grocery shopping, money management and pet care.
• When is the time to buy LTC insurance? Most advisors suggest the best time to buy LTC insurance is when you're in your early- to mid-50s and in good health. About 25 percent of people in their 60s are turned down for LTC insurance. "There's a significant risk in waiting too long, when your health status may disqualify you for coverage," Orestis says.
• How else can people pay for LTC? People who have failed to plan still have private pay options available. Orestis says veterans can access the VA Aide & Attendance Benefit, reverse mortgages for home owners can generate cash for home care, and the owner of a life insurance policy could exchange their death benefit for living benefits such as a tax-free LTC Benefit account, a lifetime income annuity or even take a lump sum of cash.
"For some, government assistance may be appropriate but limits your options," Orestis says. "For others, their nest egg or private pay options may help take care of them. But first it's important to understand what forms of long-term care are available and how you will pay for it." •
ABOUT THE AUTHOR: Chris Orestis, Executive Vice President of GWG Life (gwglife.com), is an over 20-year veteran of the insurance and long-term care industries and is nationally recognized as a healthcare expert and senior care advocate. He is a former Washington, D.C. lobbyist who has provided legislative testimony; the author of two books: Help on the Way and A Survival Guide to Aging; a frequent columnist with a series entitled "The Healthcare Hunger Games"; and has been a featured guest on over 50 radio programs and in The New York Times, The Wall Street Journal, USA Today, Kiplinger's, Investor's Business Daily, PBS, etc.