As the holiday season quickly approaches, caregivers and parents of children with special needs are considering what new toys, games and learning tools are appearing on the market and which of those might be a good fit for their child. To help families through their toy purchasing decisions, EP's editors have compiled a selection of some new products as well as some classic choices, each of which offer fun ways to improve motor skills, balance, stength or social skill buliding. Our toy guide is broken into four major sections to help highlight the features that each toy emphasizes.
GROSS MOTOR SKILLS
Big muscle movements, also called gross motor skills, involve a variety of areas of the body and specific aspects of their use. Gross motor skills are involved in movement and coordination of the arms, legs, and other large body parts and movements, such as running, crawling and jumping. Development of these skills result in postural control, coordination, strength, balance, and bilateral coordination (both sides of the body working together). Toys that emphasize these movements help with physical development and the growth of gross motor skills.
FINE MOTOR SKILLS
Fine motor skills are the coordination of small muscles, usually involving the synchronization of hands and fingers, with the eyes. Controlling smaller muscle movements can often present big challenges for children with special needs. Developing fine motor muscles is an essential first step towards holding a pencil, learning to dress, and much more. We feature toys that are designed specifically to help kids develop their finger muscles and their hand-eye coordination.
TACTILE AND SENSORY
Children can use tactile and sensory toys for calming themselves, reducing stress, promoting focus and concentration, and increasing tactile awareness, all while keeping fidgeting fingers busy! Fidget and sensory objects are great for all children and young adults, but especially those with ADD/ADHD, OCD, autism, or high anxiety levels. These toys help promote a sense of calm, lower anxiety and can increase focus and attention.
GAMES AND PUZZLES
Helping your child with special needs use their play time to the most benefit can be tricky. Try a little fun instead, using focus games to stretch their attention span. Puzzles are a fantastic tool for your child's mind and cognitive development. Additionally, many types of games help children develop new social cues and skills and come to terms with the idea of right and wrong. Best of all, board games allow you to spend quality, intentional, and uninterrupted time with your children – especially during the holidays!
GROSS MOTOR SKILLS
A MONSTER BOWLING SET
These monster friends are ideal for monster snuggling, monster catch, monster rolling, and of course the intended – a game of kids' bowling! Six soft and squishy monster pal pins are easy for small hands to grasp and lift and so much fun to knock down! Children make gains in concentration, hand/eye coordination, gross motor abilities, sensory awareness, motor planning, and visual tracking. Made of soft, highquality materials that wipe clean, this set is perfect for both independent play or with friends! The set stores in a durable carrying case that lets you bring the fun wherever you go. fatbraintoys.com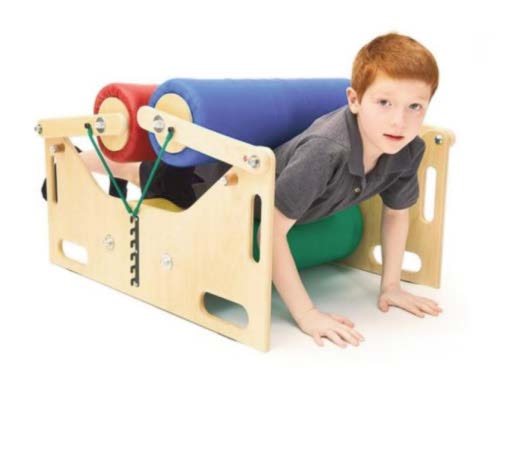 B SENSORY STEAMROLLER
Some children crave deep pressure, and the Southpaw Steamroller is a fun way to get it! Your children will love the challenge of crawling between the rollers and being flattened by the Steamroller! This sturdy unit offers deep pressure input and helps with motor planning and processing. Steamroller is planned to give the perfect heavy work activity that many children with neurological processing disorders like SPD, autism and more require. Your child crawls through or between the sets of rollers just like being wrung through a clothes ringer! Pressure exerted can be changed by adjusting the tension on the springs. It's a great addition to all of your therapeutic activities. southpaw.com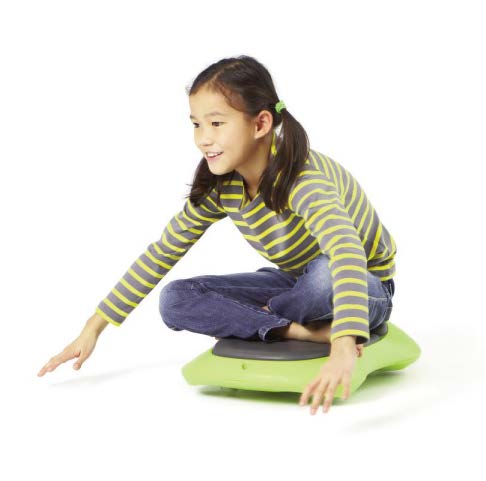 C FLOOR SURFER
Surfing has been proven to help anyone with sensory overload process their environment, and to improve the mood of kids with low tone, sensory sensitivity and hyperactivity and autism. This board is a sensory seeker's dream come true. The new Floor Surfer is a roller board for play and therapy. It combines play and training of motor skills and was developed in partnership with childrens physiotherapists to ensure safe use by any child irrespective of their motor skills level. Padded for comfort and geared for speed, the Floor Surfer is perfect for sibling play or special needs use. funandfunction.com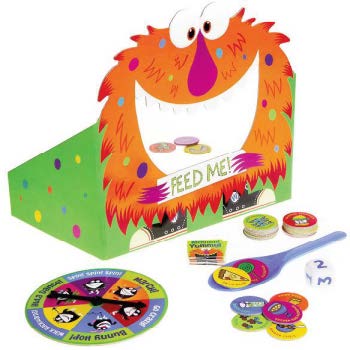 D FEED THE WOOZLE
A game of silly snacks and mixed-up moves! Chocolate-covered flies and hairy pickles? Fried socks and booger chili? Yummy! The bigmouthed Woozle is hungry. Can you feed him 12 silly snacks from the spoon before all the snacks are gone? Work together and have some monstrous fun. Set up the Woozle a hop, skip, and a jump away. Roll the die and place that number of silly snacks on your spoon. Spin the spinner and then move toward the Woozle doing the movement the spinner directs. Be careful and don't drop those silly snacks! Feeding the Woozle is active and fun while allowing kids to be aware of their own bodies. specialneedstoys.com
FINE MOTOR SKILLS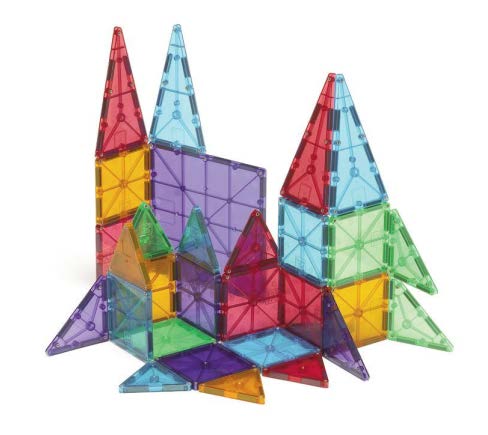 A MAGNA-TILES
Nothing inspires spatial exploration quite like Magna-Tiles. These translucent, endlessly fascinating magnetic tiles let kids who love to build use their own imaginations to connect squares and triangles of various sizes, developing motor skills along the way. Kids instantly delve into early shape discovery as they learn what each shape is called and then launch right into early geometry by connecting shapes to build in both 2D and 3D. Magna-Tiles can be played with alone or with others, and is a good choice for children who need some space to regroup and still engage in constructive play. Clear the dining room table and let the fun begin! fatbraintoys.com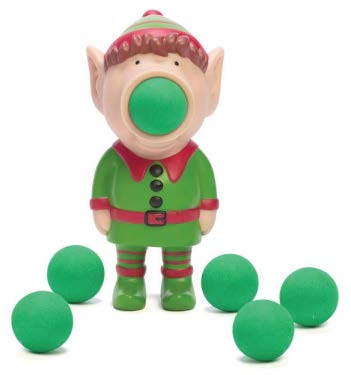 B ELF POPPER
This adorable Elf Popper launches soft foam balls! Squeeze the elf's belly to launch the foam flying balls and see who can shoot them farthest. The harder you squeeze the farther they go – up to 20 feet! The Elf Popper is a fun way for kids with autism and other special needs to practice fine motor skills, strengthen their hands, and promote bilateral coordination which is vital for handwriting skills. The Elf Popper is safe for both indoor and outdoor play and comes with 6 soft foam balls and a carry net. Works with all Power Popper refills. A great way to encourage physical activity! therapyinabin.com
C SHAPE SORTING CLOCK
With this fun colorful clock, children can match the colors, sort the shapes, and solve the puzzle as they manipulate the color blocks and turn the hands, building cognitive and motor skills, developing handeye coordination, and laying the groundwork for learning to tell time. Kids love the color-coded minute and hour hands that spin around with a simple push. The large face, exposed natural wood, and pops of vibrant color on matchable chunky pieces make this clock a fun learning tool. Children begin to master early-learning concepts as they gain familiarity with the form of a clock and concepts of time. Before you know it they'll be telling you it's time to go to school! melissaanddoug.com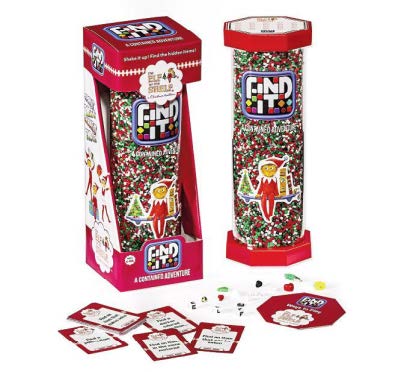 D FIND IT GAME
The Find It game has entertained kids of all ages as a "contained adventure," a portable scavenger hunt with so many ways to play. In this new version, children search for the elusive Elf on a Shelf, as well as 39 more Christmas themed goodies. This neat educational toy is tons of fun and provides lots of visual/motor perceptual skill building too! From ornaments and snowflakes, stockings and jingle bells, and even a miniature chocolate chip cookie, the items inside are sure to delight fans and the Find It game will become part of the Christmas tradition to be played throughout the holidays each year. specialneedstoys.com
TACTILE AND SENSORY
A MONKEY RINGS
If you're in search of a new fidget toy or tactile/sensory item, Monkey Rings are perfect. Twist, throw, squeeze and grab them! They're perfect for sensory and tactile stimulation, as a tactile roll or a sensory brush. This set of three ring-shaped bracelets provide a colorful alternative to other fidgets. Measuring 4" outside and 2" inside and made with 100% high-quality thermoplastic rubber, they are hypoallergenic, nontoxic, and free of BPAs, phthalates and latex. Monkey Rings offer multi-sensory options via soft but sturdy spikes and are bendable too. Ideal for calming anxiety, symptoms of ADHD, stress, and autism, they may be worn on a child's arm or carried in a pocket. playtherapysupply.com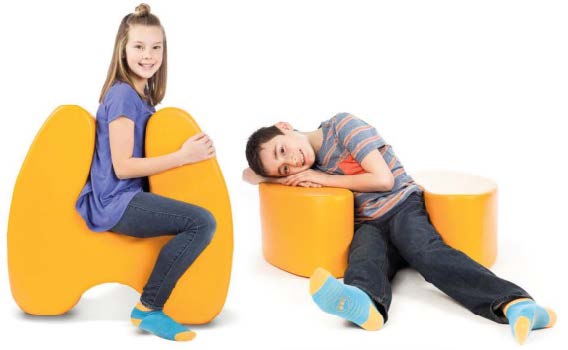 B SQUEEZIE SEAT
Need to boost concentration at school or develop relaxation techniques at home? Just take a seat, and let the Squeezie Seat do all the work. This comfy chair gently positions, cradles and squeezes wiggly kids in a just-right way, applying soothing pressure and sensory input through the trunk. The comfort and support helps kids with sensory processing disorder, autism or ADHD. It also helps align the spine for better seating posture, and enables kids to rock back and forth to enhance focus during reading, listening and class time. Straddle it and pretend it's a horse, lay across it to read a book, or climb on or under it! funandfunction.com
C GONGE TOP
The Gonge Top helps children develop physical coordination and provides vestibular stimulation while they spin, rock and play. Perfect for developing physical coordination, kids can take it for a spin alone, or pile in with a friend. Made of strong plastic for both indoor and outdoor play, children lean to one side to get it moving, and then perform a well-timed series of rocking motions to keep it going, helping improve coordination and balance skills. The Gonge Top is great for kids who have trouble with core stability and bilateral coordination. The rocking and spinning easily gets kids interested while the conical shape lets kids feel safe and secure once they've crawled inside. sensoryedge.com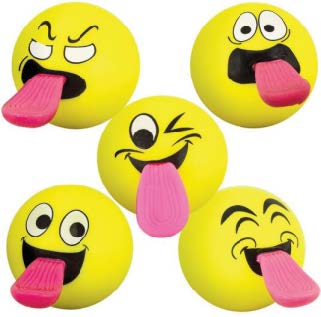 D LIGHT UP EMOJI TONGUE BALLS
Bring a bit of tongue-wagging happiness to the holidays this year. These Light Up Emoji toys are a lightweight ball, made in tough, rubbery plastic with an internal flashing light source and a stretchy tactile tongue. Bop the ball to activate the internal flashing lights. The stretchy, rubbery tongue serves as the slingshot mechanism to propel this highly unique toy. Hook the tongue over your index finger, pull the ball back and let it fly! Fun appealing light up ball for throwing, catching, rolling and squeezing. Available in six different emoji faces, one for every mood! specialneedstoys.com
GAMES AND PUZZLES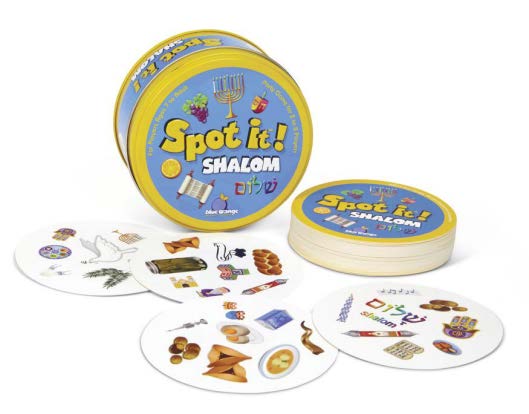 A SPOT-IT SHALOM
Spot it! is a fantastically fun game that helps develop social, visual and language skills all at once. Fun to play with others or as an individual, this game is small enough to take anywhere, so you'll be entertained wherever you are. Match the singular items on each card that are the same. Great for kids with language processing disorders, and ideal for home, school or clinic use. 55 illustrated cards decorated with colorful symbols of traditional foods, decorations and objects from the holidays, such as Chanukah, Shabbat and Purim. Play for fun wherever you go or use as an educational tool to learn Jewish traditions. Spot It! Shalom is the speech development game that fits in your pocket! mbeans.com
B FRIENDS AND NEIGHBORS
A social-emotional game that develops empathy and compassion! Can players help a little girl who's sad because she's standing out in the rain or a boy who's afraid of the dark? Winner of multiple awards, including Oppenheim Toy Portfolio Gold Seal, this matching game focuses on emotions as children encounter persons with a problem and reach into the Helping Bag to pull out a token. Can the token help someone on the game board? If so, it's a match! Playing the game and reading about the feelings and needs of the characters, kids start to recognize feelings in others - the first step to building empathy. scholarschoice.ca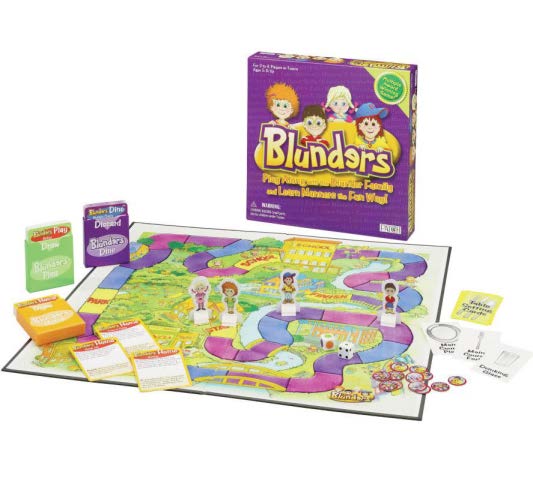 C BLUNDERS
Have fun teaching positive social skills with the Blunders Game! This award-winning game covers topics such as table manners, respectfulness, kindness and more in an interactive way! Kids are motivated to try to help the "Blunder children" improve their manners through interactive charades, thinking questions, multiple choice scenarios, and other engaging social skill activities. Along the way they'll learn to use polite table and telephone manners, introduce themselves with confidence, use good manners at school, treat others with respect and kindness, be a gracious guest, and much more! Blunders is perfect for the classroom, social skills groups, speech groups or at home. nationalautismresources.com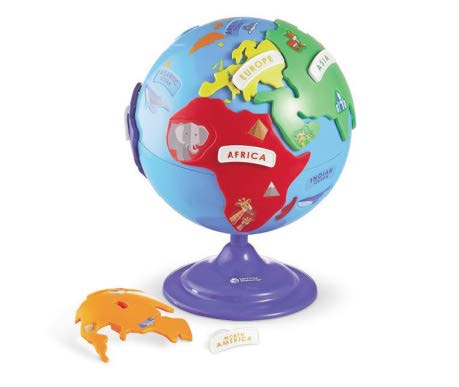 D PUZZLE GLOBE
The colorful Puzzle Globe is designed to teach children about the Earth's oceans and continents as well as some famous landmarks, and a few animals that are identified with the continent on which they reside. The set includes a sturdy base with a globe that rotates, six chunky continent puzzle pieces, a stationary Antarctica, and blank label stickers and an activity guide. Asia has camels, a tiger, the Great Wall of China and the Taj Mahal. Young explorers learn to accurately place the continents and learn the their names by affixing a name plate to the continent piece. It's a whole new spin on world geography! autismfriendlystuff.com