SCOOOT MOBILITY RIDER
Scooot Mobility Rider is an aid for young children. This product aims to help children with mobility limitations explore more independently within their homes, and play with friends and siblings. There are two different configurations, 2-in-1 and 3-in-1 depending on the child's mobility. Scooot lets kids sit upright to move around using their feet. Supported by a lap belt and backrest, the child's trunk and pelvis are encouraged to stabilize, freeing up their hands to lift and handle objects, play, and explore their surroundings. It allows kids to propel themselves around the floor by maneuvering the wheels. It can also build  upper body strength, while exploration and participation can improve spatial awareness as well as cognitive, sensory, and communication abilities. Scooot's suitability depends on the child's level of physical development, hip width, and leg-length. It is generally suitable for children aged 2-6 who are assessed at levels I-IV on the Gross Motor Function Classification Scale (GMFCS). Scooot is available in one size only.
FIREFLY BY LECKEYWeb: www.fireflyfriends.comEmail: customer.enquiries@fireflyfriends.com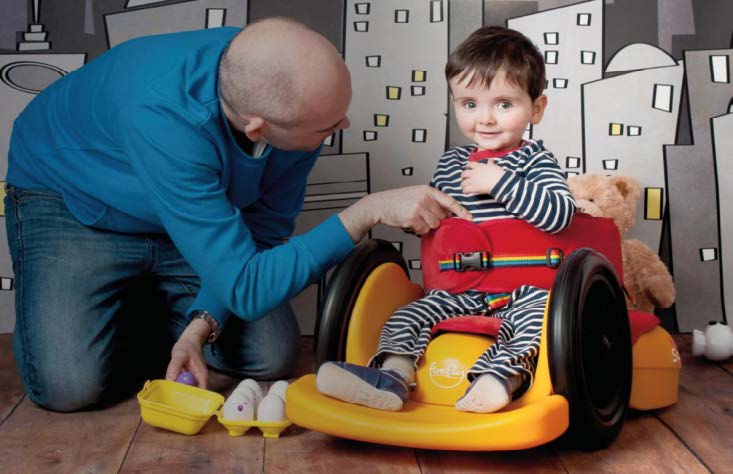 CLOMPERS
Clompers are giant, foam, monster feet stilts designed for children ages 3 and up. They are used to promote balance and coordination, and can be used indoors or outside.
TFH SPECIAL NEEDS TOYS 4537 Gibsonia Road, Gibsonia, PA 15044 Phone: 800-467-6222 Web: specialneedstoys.com Email: barb@tfhu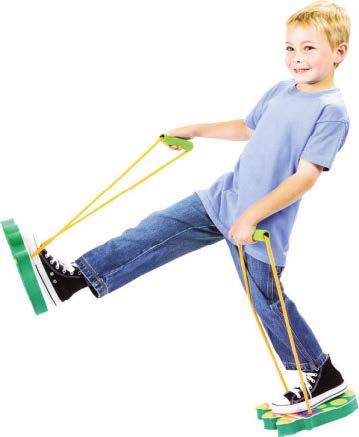 PHONICS QUIZ INTERACTIVE GAME SHOW
Phonics practice is more exciting than ever when children compete as contestants on Lakeshore Learning's interactive game show! Great for language skills and reading practice. Phonics Quiz Interactive Game Show is a computer game for children who have learning disabilities or cognitive disabilities. The game features more than 200 level-appropriate questions in 12 key categories from beginning and ending sounds to blends and digraphs. It can be played individually or in groups or teams. The game features an animated host and sound effects that tell the student contestants if they have the right answer. The user can up the challenge with an optional timer. Compatible with MAC and PCs. Suitable for ages 6-7.
LAKESHORE LEARNING MATERIALS 2695 E. Dominguez Street Carson, CA 90895 Phone: 800-428-4414 Web: lakeshorelearning.com Email: lakeshore@lakeshorelearning.com
AACORN
AACorn is an "intelligent" augmentative assistive communications solution (AAC) for children with autism, apraxia, downs, MS, and developmentally delayed language. This app can help children who are nonverbal and pre-literate communicate. This product is very child friendly, and includes a new system of presenting words "as they are needed" via a dynamically changing word tree with branching pathways. Requires iOS 9.0 or later. Compatible with iPad.
AACORN Web: aacornapp.com
LET'S LEARN SHAPES! WOODEN PUZZLE
The Let's Learn Shapes! Wooden Puzzle is a set of five wooden shapes to match with slots designed for use by children with cognitive disabilities. This activity encourages fine motor skills, visual-spatial skills, matching skills, shape learning, color learning, logic, and reasoning. Colorful shapes feature wooden pegs for easy grabbing and maneuvering. The 5 shapes included: square, circle, rectangle, oval, and triangle.
FAT BRAIN TOYS 20516 Nicholas Circle, Elkhorn, NE 68022 Phone: 800-590-5987 Fax: 402-779-3253 Web: fatbraintoys.com Email: cs@fatbraintoys.com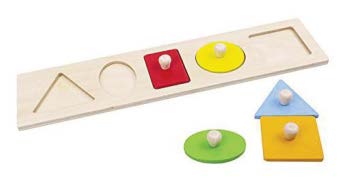 WEBBER PHOTO CARDS FUNCTION PAIR-UPS
Webber Photo Cards Function Pair-Ups teaches kids to link objects with their function. This product can be used by individuals with ADHD, autism spectrum disorder, cognitive disabilities, or learning disabilities. Photo cards help students learn to identify and describe everyday objects. Set includes content cards, game ideas, and sturdy storage tin. 56 photo cards and 28 match-up pairs.
SUPER DUPER PUBLICATIONS Phone: 800-277-8737 Fax: 800-978-7379 Web: superduperinc.com Email: customerhelp@superduperinc.com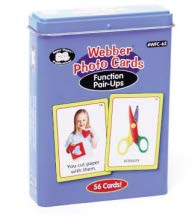 PARTY PUPS
Party Pups is a game used to improve the user's reading and writing skills. This game can be played by individuals with ADHD, ADD, and learning disabilities. To play, users choose a game board that has their favorite type of dog on it (poodle, bulldog, etc.). corgi, Then players take turns choosing p r epo s i t i on cards, identifying the preposition on the cards, and using them in sentences. The player with the most doggie treats wins. A total of 24 prepositions with each preposition are shown in three different contexts.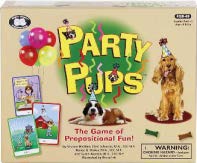 ENABLEMART 865 Muirfield Drive Hanover Park, IL 60133 Phone: 888-640-1999 Fax: 800-235-1305 Web: enablemart.com