OCTOBER IS NATIONAL AUDIOLOGY AWARENESS MONTH
October is National Audiology Awareness Month and the American Academy of Audiology is urging the public to be conscious of hearing health. A recent study by the Lancet commission on dementia, cited nine risk factors for causing dementia and hearing loss was listed as one of the causes. The report also stated that dementia typically starts many years before it is recognized. Hearing impacts the brain and cognitive thinking.
One of the factors in maintaining healthy hearing is being conscious of the degree and amount of loud sound exposure. Keeping track of sound exposure can protect hearing. Many cases of deafness are caused by damage to the tiny hair cells in the inner ear. The damage can be caused by too much noise, and it's permanent. Noise-related hearing loss is usually irreversible; however, steps can be taken to prevent this damage. One of the simplest factors to protecting your hearing is to avoid loud noise. Outdoor activities can pose a threat to hearing health. More than 40 million Americans, aged 20 to 69, have some type of hearing loss with approximately 10 million of those attributable to noise-induced hearing loss—exposure to loud noise. The National Institutes of Health NIDCD states that approximately 28.8 million could benefit from the use of hearing aids. While age is often cited as a factor, there are growing numbers of younger people also reporting hearing loss. Recreational loud noise is increasingly impacting younger people—earbuds, concerts, music in bars and restaurants, fireworks—all can be contributing factors. The American Academy of Audiology is the world's largest professional organization of, by and for audiologists. For more details, visit: howsyourhearing.org•
Rare Disease Caregiving Study
To study the impact of rare disease on unpaid friends and family members who provide care (known as "family caregivers"), the National Alliance for Caregiving and Global Genes, are launching a "first-of-its-kind" national snapshot of rare disease caregivers. This fall, the two groups plan to release a national survey aimed at collecting feedback from over 1,000 family caregivers of children and adults with rare diseases. The survey will be open from Wednesday, September 13 through Tuesday, October 31, with a final report anticipated in early 2018.
As many as 30 million Americans are affected by a rare disease or condition, and many of these individuals receive unpaid care from friends, family, and neighbors. While much of the focus on caregiving has historically been on the aging population in America, policymakers are beginning to take notice of the impact of caring for rare disease patients on the volunteer friends and family who provide care, known as "family caregivers." Many people who have rare diseases are misdiagnosed or undiagnosed, leaving their family caregivers to experience unique challenges related to access to appropriate medical care and medications, and the emotional burden associated with the uncertainty of managing the disease and its prognosis.
The Caregivers of People with Rare Diseases study includes an independent advisory committee, listed below. This committee has reviewed the survey questionnaire and will review the data before its release. Researchers at Greenwald & Associates will administer the survey and conduct the data analysis, in partnership with the National Alliance for Caregiving and Global Genes.
RARE COURAGE: As many as 30 million Americans are affected by a rare disease, and many receive unpaid care from friends, family, and neighbors.
Patient advocacy communities working in rare disease are encouraged to invite caregivers to participate in the online survey. After fielding, the data will be collected, cleaned, and aggregated into the final report. The final report will be released at a Capitol Hill briefing for Members of Congress, including the Rare Disease Congressional Caucus.
The research is made possible through generous grant funding from the following partners: Allergen Foundation, Alexion, Amgen, Amicus Therapeutics, Biogen, Mallinckrodt Pharmaceuticals, Retrophin, Shire, Ultragenyx, and Vertex Pharmaceuticals.
AAHD FREDERICK J. KRAUSE SCHOLARSHIP ON HEALTH AND DISABILITY (2017-2018)
The American Association on Health and Disability (aahd.us) is accepting applications for the Frederick J. Krause Scholarship for undergraduate (junior/senior status) and graduate students with disabilities who are majoring in a field related to disability and health. Please feel free to distribute to your colleagues.
SCHOLARSHIP PROGRAM CRITERIA: The AAHD Frederick J. Krause Scholarship on Health and Disability is awarded annually to deserving students with a disability pursuing undergraduate/graduate studies (must be at least enrolled as a Junior in college) in an accredited college or university. Preference is given to students majoring in a field related to disability and health, to include, but not limited to public health, health promotion, disability studies, disability research, rehabilitation engineering, audiology, disability policy, special education and majors that will impact quality of life of persons with disabilities.
Applicant must have a disability Applicant must be enrolled FULL TIME as an undergraduate student (junior standing and above) or enrolled PART TIME or FULL TIME in a graduate school Preference is given to students majoring in a field related to disability and health (see Scholarship Program Criteria above) Applicant must be a US citizen or legal resident living in the US and enrolled in an accredited United States university Funds are limited to under $1,000
FUNDING INFORMATION: Funds are limited to under $1,000. The AAHD Board of Directors Scholarship Committee will evaluate each of the applicants and make a decision in December of each calendar year. The 2017-2018 Scholarship Award will be awarded January 2018. It is the discretion of the Scholarship Committee to determine how many scholarships will be awarded each year and the amount of each scholarship.
APPLICATION REQUIREMENTS: • Applicant must provide a Personal Statement (maximum 3 pages, double spaced), including brief personal history, educational/career goals, extra-curricular activities, and reasons why they should be selected by the AAHD Scholarship Committee. This statement must be written solely by the applicant •Applicant must provide two (2) Letters of Recommendation (One must be from a teacher or academic advisor). Letters may be sent by U. S. mail or by email attachment as pdf and should include the signature of the teacher or advisor, and the name of student should appear in the subject line of the email. •Applicant must provide an official copy of college transcript, which should be mailed to AAHD in a sealed envelope. •Applicant must agree to allow AAHD to use their name, picture and/or story in future scholarship materials. Applications are due November 15, 2017.
APPLICATION FORM: Download the scholarship application at aahd.us/wp-content/uploads/2012/07/AAHDScholarship2017-18.pdf Please attach your application, supporting materials, etc. and email to: scholarship@aahd.us. Place "2017-18 Scholarship" in subject line. (Please use MS Word for your personal statement and MS Word, if at all possible, and/or PDF for all other documents that are emailed as attachments).If this is not possible, please mail documents to:
Scholarship Committee American Association on Health and Disability 110 N. Washington Street, Suite 328-J Rockville, MD 20850
Only completed applications will be considered and must be postmarked and/or received by email no later than November 15, 2017. AAHD is a national non-profit organization located in Rockville, MD dedicated to advancing health promotion and wellness initiatives for children and adults with disabilities.
BOOK RELEASE PARTY FOR "AN ORDINARY DAY"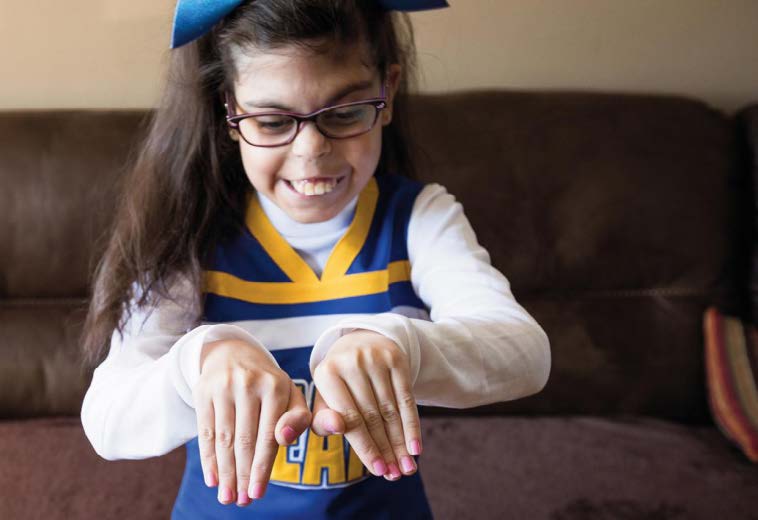 October 25th, 6:30 pm to 8:30 pm is the date of the book release party for An Ordinary Day with photographer Karen Haberberg. It will feature an appearance by Unbreakable Kimmy Schmidt star, Ellie Kemper. The event venue is 180 Maiden Lane, 2nd Floor, New York.
ABOUT AN ORDINARY DAY:
Life can present challenges that seem insurmountable. Children are not exempt from this, but often through their innocence and willpower we can find inspiration and hope. An Ordinary Day features unforgettable photographs set against intimate conversations, documenting the lives of 27 children living with rare genetic conditions. The book invites us to connect with kids like Ethan, a nonverbal seven-year-old who learns to sign to communicate his needs, five-year-old Madison who has taken her first steps after years of crawling, and Jonathan, a nine-year-old boy who finally learns to eat with a spoon after many failed efforts. Tasks often taken for granted, are profound triumphs for children afflicted with rare genetic conditions. The everyday moments captured in An Ordinary Day inspire awareness and empathy, while highlighting the commonalities between us all. Poignant and revelatory, An Ordinary Day illuminates what it means to be a family.