Drs. Perlman and Berman recruited health care professional volunteers to conduct screenings, educate their colleagues and the athletes in preventing health problems and provide referrals for follow-up care. As a result, the programs improved the health of athletes while simultaneously training health workers how to treat people with intellectual disabilities. They were so successful, Special Olympics included oral and vision health programs for athletes in the 1995 World Games in Connecticut. The results were shocking: 29% had untreated vision problems, 68% had gingivitis, 33% had tooth decay and a whopping 15% were sent immediately to the emergency room with acute pain or disease. These were athletes who were deemed healthy and fit to compete by their providers at home.
Tim Shriver, son of Eunice Kennedy Shriver and Sargent Shriver, was particularly appalled by these findings. This is the moment the Shrivers made a commitment to ending health care discrimination against people with intellectual disabilities. The data from the 1995 World Games was undeniable. In 1997, Special O l y m p i c s launched the Healthy Athletes Program. then, Since Olympics Special has delivered 1.7 million free health screenings to athletes in 130 countries. This is gamechanging for children and adults who have typically had no access to health care, or receive sub-standard care. In 2012, Special Olympics received the support of Tom Golisano, Founder and Chairman of Paychex, Inc. and the Golisano Foundation, an advocate and supporter of services for those with intellectual disabilities for much of his life. The Golisano Foundation is one of the largest foundations in the U.S., dedicated exclusively to providing support for people with intellectual disabilities.
"I have a family member with an intellectual disability so I know the difficulties a family faces when trying to find a qualified physician willing and educated to treat their loved one with a disability. And if it's difficult to find care for someone with a disability in America, we know it's even more difficult to receive care in other parts of the world. Special Olympics' global reach and infrastructure made it the perfect partner for us to launch Healthy Communities to expand critical health services for those with intellectual disabilities on a global level, moving health care for people with intellectual disabilities out of tents at special events and into communities" explains Golisano. Golisano has committed more than $37 million to Special Olympics to train health professionals and provide year-round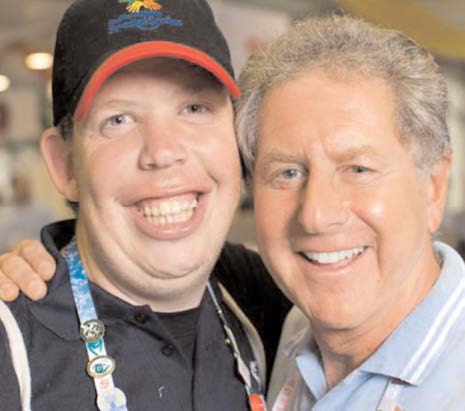 access to health care for people with intellectual disabilities. Healthy Communities accelerates inclusive health for people with intellectual disabilities by empowering advocates and families, leveraging local resources and engaging partners like universities and community-based health care organizations. Tom's generous gift was recognized among 30 great givers and causes on Forbes' "Philanthropy's Big Bets for Social Change of 2015" that featured the most promising philanthropic gifts aimed at solving social problems in the U.S. and around the globe. In the short time the Golisano Foundation has been with Olympics, the average number of Healthy Athletes screenings has increased by 150 percent, screening 45,000 more athletes per year. Additionally, over 3,000 new health care professionals have been trained and Healthy C ommu n i t i e s advocacy is engaging the next generation of health workers to be trained in how to treat people with intellectual disabilities. With the support of the Golisano Foundation, Special Olympics is expanding year-round access to quality health care around the world, reaching almost every continent. Healthy Communities was piloted in 14 Programs and is now in funded globally in 80 Special Olympics Programs around the world, with a goal of 100 Programs by 2020. 
GAME CHANGERS: (Left) Pediatric special needs dentist Dr. Steven Perlman with a Special Smiles patient; Joyce (pictured above with her father) benefitted form the efforts of Healthy Communities, and can now run, play and attend school with the other children in her village.
T o recognize the progress being made around the world to increase access to essential health care for people with intellectual disabilities, the Golisano Global Health Leadership Award was established. It is Special Olympics' highest honor for health partners. In 2017, at the Special Olympics World Winter Games in Austria, Chairman Tim Shriver and Director of the Golisano Foundation, Ann Costello honored seven health care organizations and professionals who are on the frontlines of bringing essential and often unprecedented health care services to the most marginalized people on Earth. The 2017 honorees are health champions in their countries and hail from Peru, Egypt, Uganda, Thailand, China, Belgium and the United States.