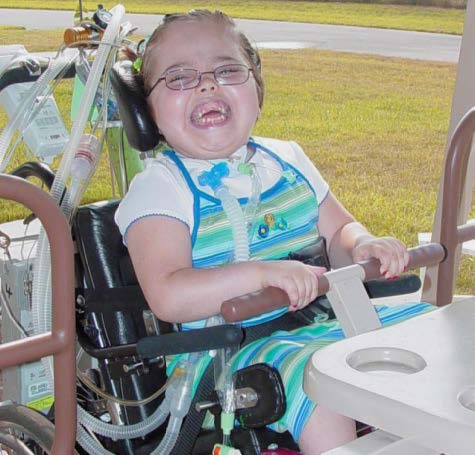 Halley's smile tells it all! Home of the Innocents, in Louisville, Kentucky.
Guaranteed!
• Excellent Safety Features!
• Very Comfortable!
• Quiet easy swinging action!
• Swing will never rust!
• Canopy offers generous shade!
The Wheelchair Accessible Swing!
"The Swings create an immediate and positive impact on the f requency and quality of play interactions between our able-bodied and mobility impaired children. "
– Michael E Crawford, Ph.D, Director, Recreational Therapy,
Munroe-Meyer Institute, University of NE Medical Center
"To see the joy on a child's face when they swing in their wheelchair is a very rewarding experience.
The WhisperGLIDE swing is enjoyed by all ages. "
– Pamela Pudlo, CCLS, Shriner's Hospital for Children, Springfield, MA
"I highly recommend the WhisperGLIDE Company. For many reasons we have recently ordered 4 more swings. "
– Joan Stevens, QMRP, Quest, Inc., Tampa, FL
"A child with a life-threatening illness, Courtney has spent many hours in her swing, enjoying its soothing motion and being outside. "
– Joyce Baird, Director, Make-A-Wish Foundation, Urbandale, Iowa
WhisperGLIDE is Enjoyed by Thousands!