from the ground up for individuals with disabilities. They dreamt of a place for summer fun and weekend respite from the realities of everyday life for families with special needs. By December, ESP officially became the proud owner of the beautiful property, and Camp Hooray, a place where accessibility will be a foundational feature rather than a rushed afterthought, was one step closer to becoming a reality. In Georgia alone, there are more than 2,000 children with special needs who could be served by ESP, and for each child who attends camp, there is another one waiting. Camp Hooray would ensure that more individuals with special needs are able to enjoy the classic summer camp experience that they undoubtedly deserve. ESP's dream is to make Camp Hooray the most accessible, technologically advanced camp in the country, offering an unprecedented experience to the more than six million children with disabilities in the U.S. But how will ESP ensure that each child who attends Camp Hooray experiences all that summer camp has to offer, no matter the ability level?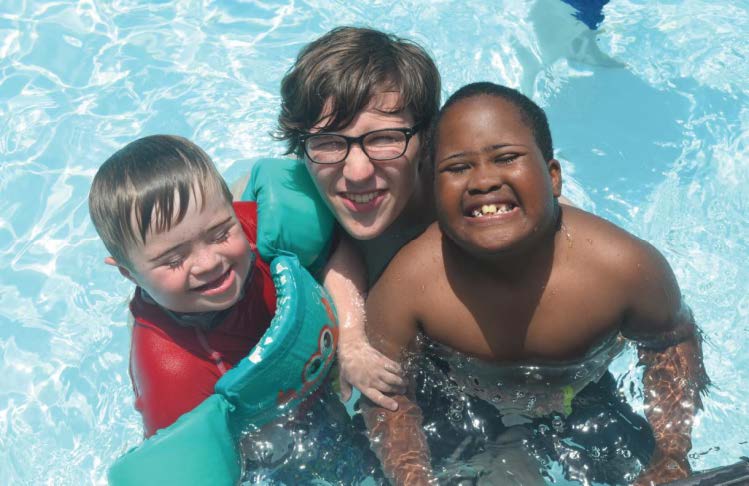 COOL CHARACTERS: Campers and volunteers enjoy swimming during a hot afternoon.
University of Georgia & Georgia Institute of Technology
ESP enlisted the help of students from two schools, the University of Georgia and Georgia Institute of Technology, to lead the architecture and landscape design efforts of Camp Hooray. Just as Camp Hooray will be the first of its kind, this partnership and collaboration of resources between two rival state universities is unprecedented. The design process of Camp Hooray was a whirlwind of innovative ideas and creative thinking, all executed with a "top bunk mentality," keeping those who will benefit from the camp top of mind throughout. Known as a charrette, the intense period of design and planning activity is a process both universities use to focus on a particular issue with a specific and intended outcome. The students incorporated feedback sessions with stakeholders, allowing them to evaluate their work as it developed. "We like to think of the process as tornados in reverse," explained Pratt Cassidy, University of Georgia's Director of College of Environment and Design and leader of the project. "Everything is disturbed and through the process, it pulls itself together and becomes coherent in the end." 
"Our students were intensely inspired by the ESP project and the kids who would be served at this camp," he continued. "Several of them continued volunteering for the organization after their experience." Parents and their children with special needs huddled around drafting tables with the students to emphasize what's important to them as prospective campers, addressing mobility challenges and medical needs that aren't typically considered during the students' design projects. The students surveyed the property in wheelchairs, blindfolded and more to experience terrain as the campers might. "It was breathtaking and totally aweinspiring to see the university students navigating the property with their 'special abilities,'" Strickland remembered. "Their experience at the camp site offered a unique perspective that informed their design. Putting themselves in our kids' shoes was innovative and necessary to make it the place it needs to be." After six months, the two schools presented their final drafts, and the vision for Camp Hooray came to life on the page - a realistic possibility. The split-level cabins will give children in wheelchairs access to the top bunk without being separated from the rest of the campers. Common areas of the cabins and camp buildings will be engineered so that children with behavioral disabilities can safely and intentionally wander. Skywalk paths high in the treetops will offer contained and safe pathways of inspiration.
 And a unique "Activitree" provides a treehouse setting for outdoor adventures like zip lining and a rockwall - activities not traditionally offered to campers with special needs. Camp Hooray is a big dream, and making it a reality will not be a small feat. But for those at ESP, hope is a choice, and once you choose it, anything is possible. "Camp Hooray is a dream we didn't even know we had," said Strickland. "We want these kids and their families to experience life to the fullest, and that means offering a summer camp with no limitations. Every child with every ability will thrive at Camp Hooray."•
ABOUT THE AUTHOR:
Laura Whitaker began as a volunteer at Extra Special People in 2003. With her passion for enhancing the lives of children with developmental disabilities and her specialized education in this field, Laura was selected as the executive director after the founder, Martha Wyllie's sudden passing in 2004. As Executive Director, Laura uses her leadership and management strengths to manage staff, oversee year-round programs and summer camps and raise millions of dollars for the organization. Her favorite part of the job is getting to hug the many children who walk through the ESP doors.
ESP is now on a journey to gather funding from local and national organizations that align with ESP's fundamental values of compassion and community and make their dream a reality by the summer of 2020. To learn more, visit camphooray.com