INCREASES VISIBILITY ENHANCES SAFETY
SAVE LIVES!
THE BODY BEACON, A PATENTED L.E.D. PERSONAL WARNING SYSTEM, IS NOW AVAILABLE SO THAT THE SPECIAL NEEDS COMMUNITY WILL
NEVER BE INVISIBLE AGAIN!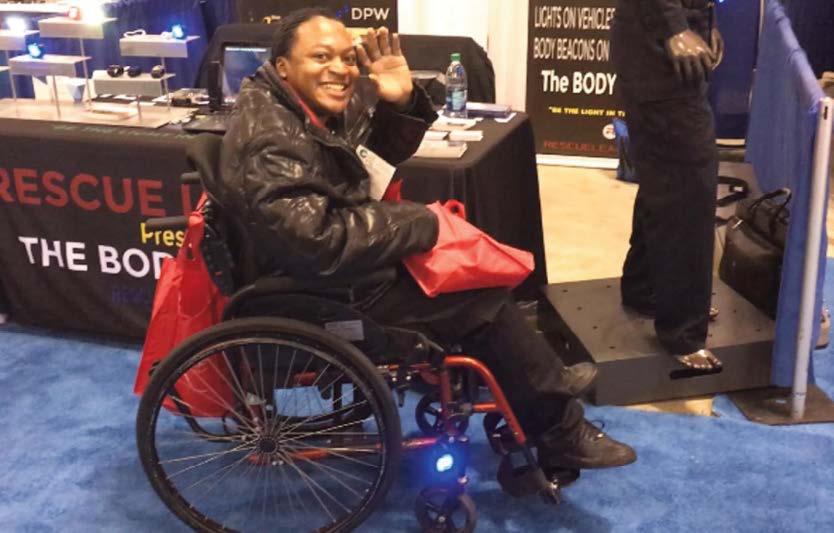 LAW ENFORCEMENT, FIRE & EMS TESTED
The patented Body Beacon creates light to enhance the safety of the user. Too often, people with disabilities are vulnerable to a low-visibility environment due to lack of mobility or the fact they are situated below eye-level to the rest of the population.
Individuals who use wheelchairs or other mobility devices can easily attach The Body Beacon and shine 60 lumens of colored light and flashing patterns to alert pedestrians, vehicles and all others of their presence. In addition, young children or people prone to wandering will be highly visible, even at distance, while using the Body Beacon.
The Body Beacon is a highly efficient, affordable solution that increases visibility and enhances safety. With eight color selections to choose from, it is waterproof, USB rechargeable and a great way to protect your loved one from accidents that may result in low-light or lowvisibility environments. Contact us today!
UP TO 8 HOURS OF CONTINUOUS FLASHING!
• 8 COLORS
• WATERPROOF
• USB RECHARGEABLE
• POWER INDICATOR LIGHT