Liui'a Nikosiaki, a nine-year-old Special Olympics athlete from the village of Mutiatele Aleipata, in Samoa, had his life changed forever when he was struck by a car and had his left leg amputated. He was given crutches to walk, but as he grew older he outgrew them. His family began carrying him around town and to Special Olympics events. At Fit Feet, Liui'a was referred to a local health services provider that did measurements for an artificial leg. They also provided him with new crutches to use until his prosthetic leg was delivered.
Fit Feet offers podiatric screenings to evaluate ankles, feet, lower extremity biomechanics, and proper shoe and sock gear to athletes. Many athletes suffer from foot and ankle pain, or deformities that impair their performance. In fact, up to 50 percent of Special Olympics athletes experience one or more preventable or treatable foot conditions that can affect their sports participation. Often, these individuals are not wearing the most appro priate shoes and socks for their particular sport. To alleviate these problems, volunteer foot specialists work with athletes to evaluate problems of the feet, ankles and lower extremity biomechanics. The goal of Special Olympics Fit Feet is to improve the quality of life and long-term health of Special Olympics athletes and people with intellectual disabilities. Fit Feet screenings give athletes, coaches and caregivers a better understanding of any existing and previously unknown foot problems. Fit Feet not only increases access to foot care for individuals with Intellectual Disabilities through free podiatric screenings, but also by raising podiatrists' awareness of the foot concerns of the population and training foot care specialists on working with our population.
DID YOU KNOW?
Fit Feet examinations have found that a large percentage of Special Olympics athletes have untreated foot conditions.
• 50% have gait abnormalities
• 53% have skin and nail problems
• 21% have bone deformations
• 41% of Special Olympics athletes in the U.S. are wearing the wrong size shoe
Marc G. Colaluce, DPM has been a Regional Clinical Advisor for Fit Feet for the past 10 years and has seen, evaluated and treated numerous individuals with intellectual disabilities (ID). Special Olympics interviewed Dr. Colaluce to learn more about how parents can be more aware of foot health in their children with ID.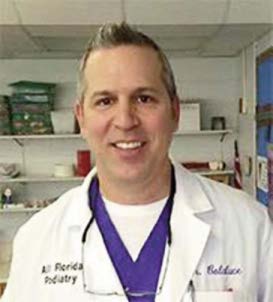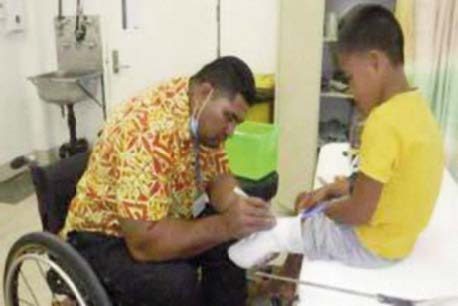 FEET FIRST: (Above left) Dr. Marc G. Colaluce is a Regional Clinical Advisor for Special Olympics; (right) Liui'a getting fitted for his new prosthetic leg.
Q. What would you recommend for a parent of a child with disability if they are experiencing pain when they walk?
A. Parents of those with disabilities must realize that communication is important and sometimes we must be creative in doing so. We must observe our children and their actions and find ways to provide treatments to relieve them from pain and dysfunction.
In those with ID, we must be aware that there are many situations where they do not respond to pain and do not always tell a parent, caregiver, or physician. We must watch for subtle signs of pain or discomfort. Gait changes, limping, walking slower than usual, not keep ing up with others, stumbling and falling without cause, not wanting to keep shoes or socks on, are all examples of how your child could manifest pain.
Once a painful situation is realized then the appropriate care must be arranged. In Florida where I practice, Special Olympics Florida has created a web-based database of clinicians that are available to treat and respond to those with disabilities that we have given specific training and knowledge regarding typical foot issues found with those with disabilities. I have found that by contacting local organizations like Special Olympics, they can assist you in finding the correct avenues for assistance and treatments.
We must understand that there is a typical mindset that those with disabilities are all "children" but we must realize that those with ID are living much longer lives. With all of our population living longer, we may also see abnormalities that are typical within older adults, like arthritis pain.
Q. How often should you visit a podiatrist?
A. If you have poor foot health, visits with your Podiatrist will be needed until resolution or the diag nosis is managed. We must understand that the legs, ankle, and feet could include dermatological, neurological, vascular, muscular, skeletal and bio-mechanical manifestations – and your Podiatrist would be the place to start evaluation and treatment. A Podiatric provider can assist with non-invasive and when needed, invasive treatments, ranging from assistance with new shoes, shoe inserts or bracing. Examples of more involved treatment could include wart, toenail, or bunion surgeries. Patients who have chronic diseases like diabetes need to be seen more often as foot health is adversely affected by diabetes..
FOOT CARE TIPS
To prevent major foot problems, I suggest the following tips:
the following tips: • Perform a self or assisted foot examination every day. Look for blisters, redness, and ingrown toenails.
• Change and replace your shoes often if the tread/soles wear down. Make sure you wear the correct size and width.
• Wash and clean your feet daily, and make sure to thoroughly dry your feet and in between your toes.
• Socks made with a blend of cotton and acrylic are the best at keeping moisture under control.
• Protect your feet from extreme hot and cold temperatures. Don't walk barefoot.
• Trim and file your toenails once a week. Remember to cut straight across the toenail.
• Topical medicine should be prescribed and applied as directed.
• Moisturize your feet if you have dry skin with creams or lotions.
Special Olympics Fit Feet
Fit Feet was developed through Special Olympics' collaboration with the American Academy of Podiatric Sports Medicine. Many Special Olympics athletes suffer from foot and ankle pain or deformities that impair their performance. Also, athletes are not always fitted with the best shoes and socks for their particular sport. During Special Olympics competitions, volunteer health care professionals examine athletes' feet and ankles for deformities, and also check for proper shoes and socks.
We, as parents and caregivers, must listen and observe our children to assure they receive the highest quality of care for all of their physical and psychological needs. By knowing how to check and address any foot issues that may arise, you can ensure your athlete will be able to put their best foot forward in their endeavors.•
EP MAGAZINE EDITORS' NOTE: Fans, athletes, coaches, families and supporters of Special Olympics can qualify for a free yearly digital subscription to EP Magazine by contacting us. Please click on: ep-magazine.com/so.php