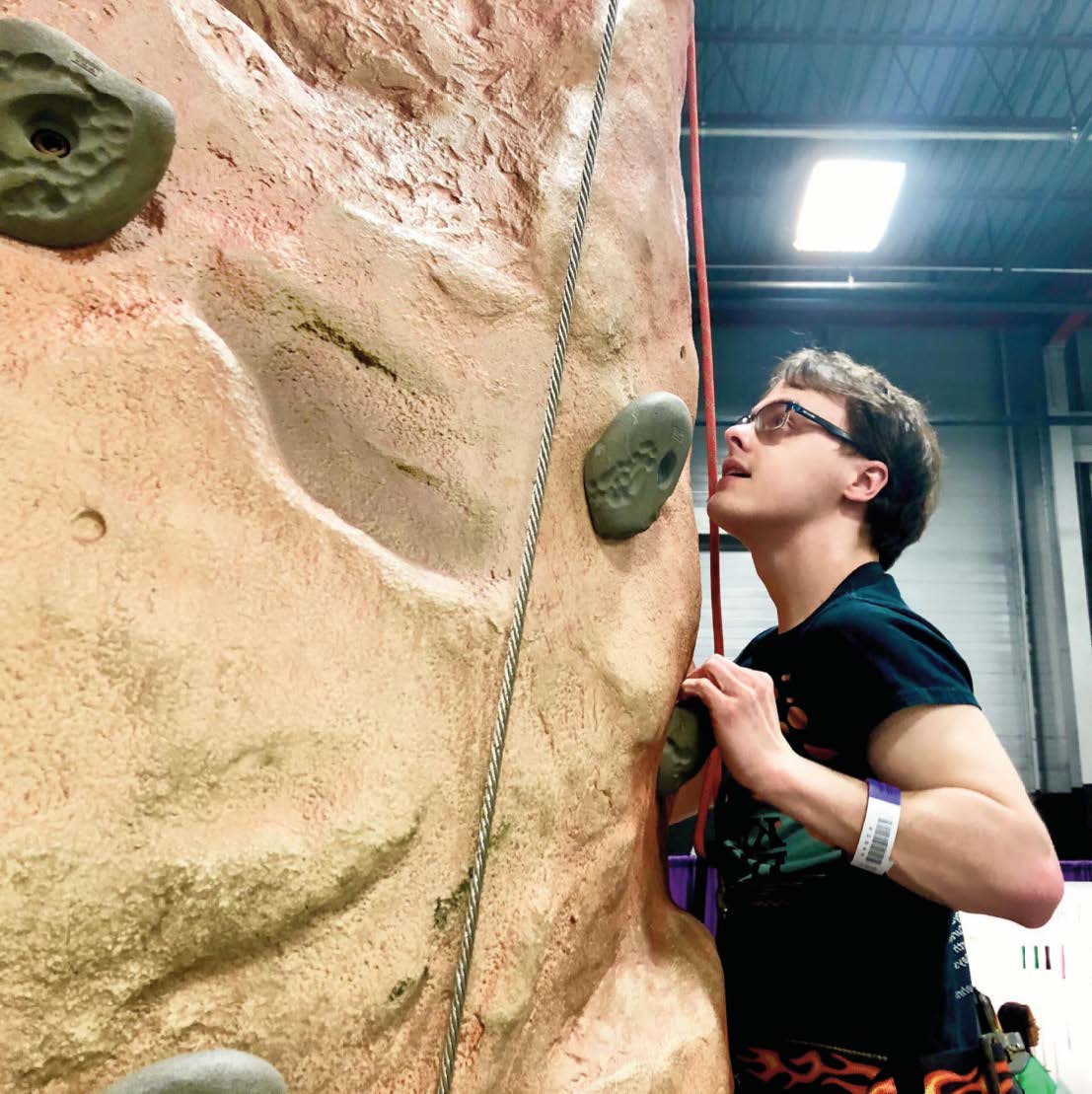 WHERE ELSE CAN YOU DISCOVER ABILITY-ENHANCING PRODUCTS AND SERVICES, PLAY A FEW ADAPTIVE SPORTS, LEARN NEW DANCE MOVES, ATTEND INFORMATIVE WORKSHOPS AND ONLY SCRATCH THE SURFACE OF WHAT ABILITIES EXPO HAS TO OFFER?
AN ADAPTIVE CLIMBING WALL, THE LATEST DISABILITY PRODUCTS, AND MICAH FOWLER OF ABC'S SPEECHLESS FEATURED AT THE NEW YORK METRO ABILITIES EXPO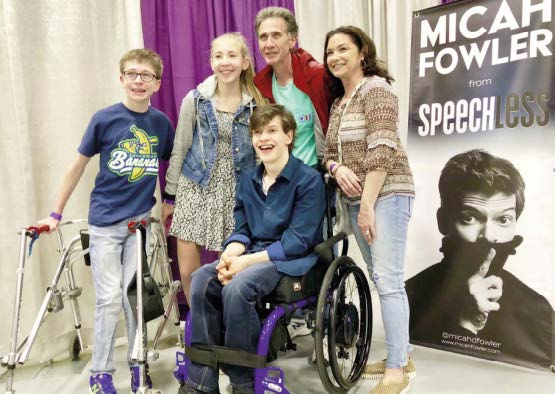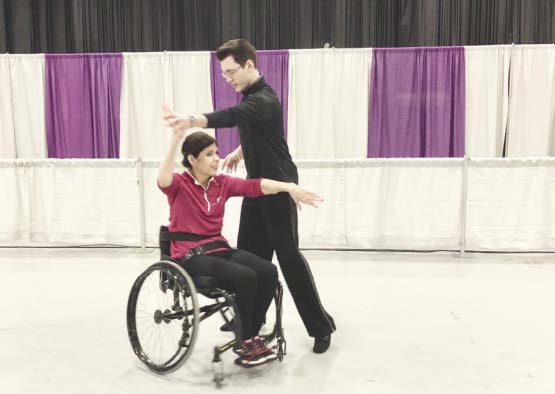 MAXIMUM EXPOSURE: (Clockwise from top left) Micah Fowler, recently named to Forbes' 30 Under 30 – Class of 2018, visits with fans during his Saturday apperance; Jasmine and her mom enjoy one of the hundreds of events and exhibitors; Team Tamelli demonstrate dance moves for an appreciative crowd; Sarah Best's service do Edison takes a well-deserved rest in front of Exceptional Parent Magazine's booth. (Opposite page) Adaptive climbing builds confidence, develops goal-setting skills, increases strength and improves flexibility.
People with disabilities, their families, caregivers, seniors, wounded vets and healthcare professionals attended Abilities Expo on May 4-6, 2018 at the New Jersey Convention & Expo Center to discover the latest products, education and fun for all ages. Among the myriad of exciting, inclusive opportunities, attendees were especially excited for the chance to test drive cutting-edge technologies, summit the giant wall with specialized adaptive climbing equipment and meet Micah Fowler.
"The Abilities Expo was such a rewarding, and awesome day! My son, Christian really wanted to go, and encouraged our whole family to go. It was such a memorable, and inspirational day for all of us! We met so many amazing people, met new friends, and even professionals who took the time to mentor, and encourage Christian with his future career ideas, and plans! What an invaluable day!" said attendee Helen Huber. "Thank you to everyone who made this day possible! It was truly a blessing to our family!"
Micah Fowler of ABC's hit sitcom Speechless hosted a Q&A, followed by a meet and greet. Fans got to meet the gracious star in person and learn more about his groundbreaking role as J J DiMeo, and how he refuses to let cerebral palsy define him.
The adaptive climbing wall was also a tremendous hit at the Expo. Regardless of the level of ability, anyone could participate and enjoy the experience of ringing the bell at the top. Instructing would-be climbers was Guinness World Record holder Mark Wellman of No Limits. An avid climber, Wellman was the first paraplegic to summit El Capitan and Half Dome at Yosemite National Park.
Attendees also experienced cutting-edge products and services O for people with a wide range of disabilities. They found mobility products, devices for people with developmental disabilities, medical equipment, home accessories, essential services, low-cost daily living aids, products for people with sensory impairments and more. The Assistive Technology Showcase also featured breakthrough AT to empower the community to bridge the gap between ability and disability.  A series of compelling workshops on how research can improve quality of life, travel, therapeutic cannabis, accessible home design, emerging therapies, selecting the right accessible vehicle and I more were also offered free-of-charge.
Attendees were able to let loose with daily dance demos focusing on various styles. Sunday's ballroom dancing workshop was led by Cheryl Angelelli and Tamerlan Gadirov, the #1 Para Dance Sport couple in the United States. People also enjoyed service dog demos and play adaptive sports like golf, quad rugby, hockey, basketball, marital arts therapy and racing.
Complimentary loaner scooters, wheelchair repair and sign language interpreters were also available to accommodate attendees. For more on theAbilities Expo, visit abilities.com •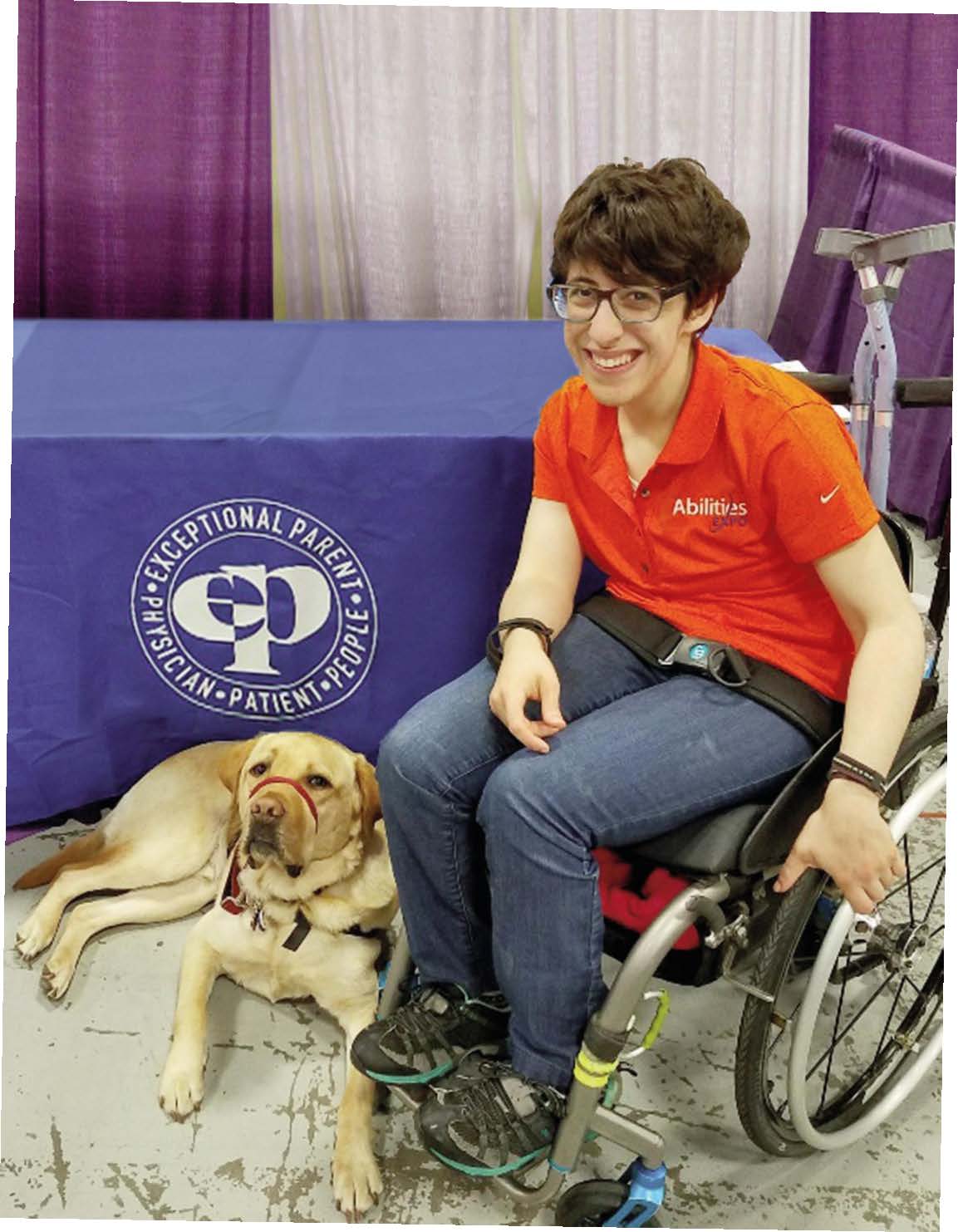 Having Edison by my side is such a comforting feeling. We go everywhere together. We often go to New York City, which requires a cab to the train station, a train ride, a bus and then some walking. Edison does it all with ease and never complains!