A SURGEON'S STORIES FROM THE FRONTIERS OF PEDIATRIC MEDICINE
8 Ways to Get the Best Medical care for your Kids
Over the years I've found myself giving advice to parents about how to tackle the confounding range of decisions involved in finding the right doctors and medical care for their children. A good guiding principle is that the more you use experts and facilities that specialize in pediatric care, the better your child's experience and outcome will be. But there are a few specific things you can do or look for beyond that, to become the best possible advocate for your child – in sickness and in health.
1.A FEW KEY QUESTIONS TO ASKFor your pediatrician: Will my child YOUR KIDS' DOCTORS: see the same doctor or nurse every time we visit? What type of affiliation do you have with the closest children's hospital? Will you refer me there in case of an emergency? Can I call you when my child is hospitalized? Can I put you in touch with my child's surgeon? Is anyone in your practice available in the middle of the night in case of an emergency? For your specialist: Do you exclusively care for children? Do you have fellowship training and Board certification in your pediatric specialty? For certain issues – namely concussions, broken bones, dental and mental health needs – you'll want to be absolutely certain your provider specializes in the care of children. For your surgical facility: Is anesthesia provided exclusively by a pediatric anesthesiologist? Does the facility have dedicated pediatric nursing? Is a child life program available?
2.DEVELOP AN EMERGENCY CAREChildhood injuries are remarkably PLAN FOR YOUR CHILD. common – from sports injuries and concussions to broken bones and serious traumas. The best place to take your child in an emergency isn't necessarily the hospital closest to your home. Determine where the nearest pediatric specialty hospital is located and find out how it operates. Is it a designated pediatric trauma hospital? Do they have pediatric emergency physicians on call 24/7/365? Are on-call pediatric specialists immediately available? Pick the hospital near you with the most advanced pediatric services and make sure you know how to get there from home, school, sports activities, and anywhere else where your child spends significant time. Map-out directions and provide them to the care-givers, guardians, and babysitters.
3.FIND OUT WHAT CHILD-SPECIFIC SERVICES ARE COVERED BY YOUR HEALTH INSURANCE PLAN.Is your pediatrician covered? How about other pediatric specialists—espe cially ones specializing in mental and behavioral health? Is a pediatric specialty hospital in your network? Will transportation to the closest pediatric specialty center be covered in an emergency situation? These are key questions to ask when choosing coverage, or to evaluate the plan you already have.
4.TAKE A TOUR OF THE NEARESTParents usually don't set foot inside a pediatric hospital until their child is suffering. At that point, dealing with the immediate health issues takes precedence over getting familiar with the people and place that could ultimately save your child's life. Many children's hospitals accommodate general visits. You should schedule one at a time when your children are healthy. Take a tour. Meet with nurse navigators, family advocates, and child life specialists at the hospital. These are the people you'll want to know in the event of illness or injury. You can also visit the hospital's website in advance to understand what resources are available and research the hospital's ratings and accreditations.
5.CREATE A PLAN FOR SPECIALIZEDExpectant moms and dads often plan every aspect of their baby's birth and homecoming, but overlook the possibility that their newborn may need access to a neonatal intensive care unit (NICU). The fact is, 1 in 8 newborns spends at least one night in neonatal intensive care. If you are an expecting parent, talk to your obstetrician and pediatrician about referral options for a maternal-fetal specialist. Level IV NICUs offer the most advanced care for sick newborns and immediate access to specialists. Determine what level of NICU is available at your delivery hospital and ask your provider and insurer about transfer options to a higher level NICU in case of complications. Find out ahead of time if pediatric surgeons, anesthesiologists, and radiologists are immediately available in the NICU. No parent wants to think about the prospect of a seriously ill newborn, but being prepared means you can avoid making rushed or uncertain decisions in a time of high stress.
THEN AND NOW: Dr. Newman as a surgeon at Children's National Medical Center in the 1980s, and today as President & CEO of Children's National Health System. He is dedicated to making children's surgery pain free and less invasive, and is a strong advocate for the expansion of mental health treatment access for kids.
6.PRIORITIZE YOUR CHILD'S MENTAL HEALTH. More than 20% of children will have a mental health issue at some point in their lives - but parents often don't recognize or admit their child needs help until an average of 8 years after the first symptoms – frequently when they have reached a state of crisis. Track and report worrisome changes in your child's behavior to your pediatrician. Find out what psychiatric and social services are available and ask about ways you can take advantage of them. These are important steps that every parent should take. All children are subject to mental, social, and behavioral pressures as they develop and grow. Prioritizing mental health is vital not just for kids with established special needs, but for all children.
7.BE AN ACTIVE MEMBER OF YOUR CHILD'S CARE TEAM.  At top children's hospitals, parents are considered active members of the care team and their input is encouraged. Though the physician is the medical expert, a mother, father, or other guardian can provide details and observations that are fundamental to diagnosis and treatment. This is particularly true for infants, toddlers, and non-verbal children who can't communicate what they feel. When you sense something is wrong with your child, but can't put your finger on what, keep track of your observations and share them with your pediatrician. You can also share constructive feedback about your child's care. Most pediatric hospitals collect parent input via standardized surveys. But other verbal, written, and email input is welcome – or at least it should be. In the right hands, a single patient's story (positive or negative) can help spark change across an entire organization.
8. BOOKMARK THESE IMPORTANT ONLINE RESOURCES.For help finding a children's hospital near you:Children's Hospital Association: childrenshospitals.org To learn more about pediatricians and pediatric specialists:American Academy of Pediatrics:healthychildren.orgTo learn more about pediatric surgery:American Pediatric Surgery Association:eapsa.orgTo learn about injury prevention:SafeKids Worldwide: safekids.org
TO RESEARCH HOSPITAL RATINGS AND ACCREDITATIONS:
Hospital Safety Ratings: Leapfrog   leapfroggroup.org Hospital Quality and Outcomes: Joint Commission  jointcommission.org Excellence in Patient Care: Magnet Status  nursecredentialing.orgNational Committee for Quality Assurance  ncqa.orgU.S. News & World Report Best Children's Hospitals  health.usnews.com/best -hospitals/pediatric-rankings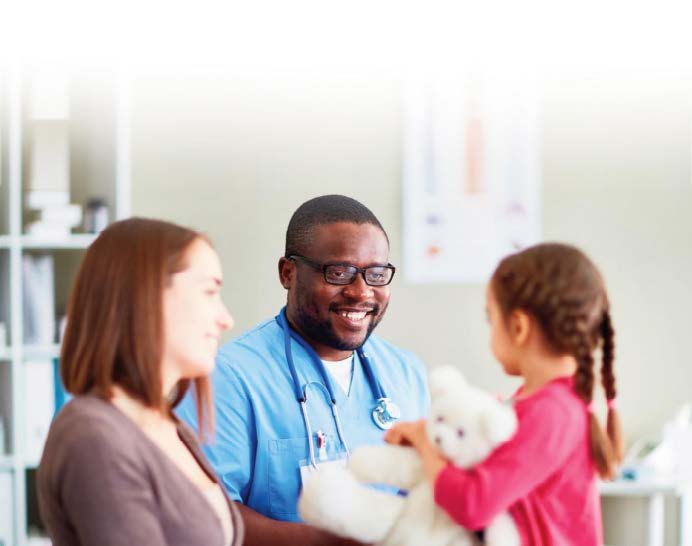 ABOUT THE AUTHOR:Kurt Newman, MD, is president and CEO of Children's National Health System in Washington, D.C., widely recognized as one of the nation's best pediatric hospitals. A native of North Carolina and graduate of Duke medical school, Dr. Newman has been a practicing surgeon and chief of surgery at Children's National for over thirty years and is a professor of surgery and pediatrics at George Washington University Medical School. He helped create the Sheikh Zayed Institute for Pediatric Surgical Innovation, dedicated to making children's surgery less invasive and pain free, and is a strong advocate for the expansion of mental health treatment for kids. He and his wife Alison (a neonatal nurse practitioner) are the parents of two sons and live in Bethesda, Maryland.